#471
Podcast
471: How Digital Solutions Combat Medical Provider/Staff Burnout
EPISODE SUMMARY
Juggling trying to increase recruitment and retention of customers while reducing the stress on your employees is no small feat. Healthcare companies have to also retain their employees.
In episode 471, Dave Mastovich talks about how healthcare marketing leaders can use digital solutions to gather insights and leverage technology and storytelling to resist staff burnout.
EPISODE TRANSCRIPT
It's the No Bullshit Marketing Show. I'm Dave Mastovich, CEO and founder of MASSolutions, the world's only no bullshit marketing consultants. Today we're going to talk to you about how digital solutions can combat medical provider and staff burnout. That's a lot to unpack. How can digital solutions combat medical provider and staff burnout? We're in the midst of the great resignation, the talent wars, where retention and recruiting are so important to every organization, but even more so to healthcare organizations. And those same healthcare organizations have to continually recruit and retain patients, their clients, their customers or patients on the healthcare side. There are three steps, three ways to leverage digital solutions and the power of story to help with recruiting and retention of employees, and to help with recruitment and retention of patients. So, we're here today talking about health care companies, healthcare organizations that have their providers getting burnout and their employees getting burnout, all the while they're trying to obtain and retain patients. And I have three steps for you to follow to work through this, to bring yourself peace of mind, to save you and your patients time and to manage your resources, and therefore, your costs better.
The first is to systematically gather insights. Systematically gather insights, what do I mean by that? I want you to talk about, hear from, learn from patients and employees. Systematically gather insights by having three to five open-ended questions that you ask patients and employees through different channels at different times, and then you track as much as you hear qualitatively. So, you're qualitatively, systematically gathering insights by talking to employees, talking to patients, asking them, what's the one thing they'd change to improve the patient journey? What's the one reason that they stay as an employee or as a patient? Ask them these open-ended questions to systematically gather feedback. But then also, systematically gather feedback by studying the length of time that a patient who calls your call center is on the line, the length of time they might be on hold, the length of time it takes to get them to resolution. Look at how long your patients are on your website, and what are they doing? Are they able to get the information they need? Quickly? Or are they coming to your website and leaving immediately? That's what I talked about in step one, systematically gather insights. You want to look at what you see that are trends about your patients, what's their location? Where are they from? What's their age? What's their biggest concern? What's the thing that made them come to you? You're asking these qualitative open-ended questions, you're combining that with numerical data, quantitative data that you have in your reporting. By systematically gathering insights, you'll be able to find opportunities to make your patient experience, your patient journey better, which will then lead to more patients, and keep the existing ones and could very well lower your costs.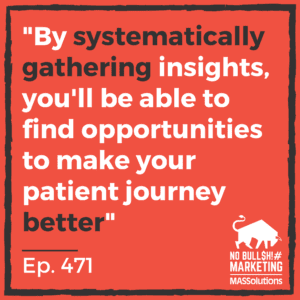 We have many examples of this. Multiple clients have had challenges with their call center. We were able to quickly look at their reports, look at their trends across the board from their patient journey. And we were able to see where the patient entered. Was it the website? Was it a phone call? Was it an app? And what happened when they entered and began their journey with you? How difficult was it for them to get a question answered, to reach someone they wanted to talk to, get an appointment scheduled? How well were you doing at reminding them about their appointments and texting them and keeping them in the flow of understanding that they were part of something, and they were going to benefit from coming to see you to reduce your no-show rate? How much have you incorporated telehealth if you are a physician provider? How much have you enhanced your virtual tour if you're a senior living community? But all of these fall under the first step of systematically gathering insights from and about your patients from and about your employees, because now you'll diagnose what the problems are, which are opportunities for you. I mentioned client after client after client, we've come back and said, here's what we've learned about your patient experience. Here's where there's some bottlenecks in the patients trying to get scheduled, trying to reach someone, trying to figure out about billing, trying to schedule a tour, trying to learn more about your pricing, trying to get in to see someone for physical therapy, these trends are noticed. And we're able to say this is a problem, here's the way to turn it into an opportunity. But at the same time, you're talking to patients and employees, and asking open-ended questions and tracking what you hear, and you're seeing trends there as well. And those trends will tie to the other statistical things that you're noticing from the reports that you're gathering about your patient journey. And a lot of it ties to your digital front door. Your digital front door is what your patients see and experience digitally when they think about you and consider you or want to use you. Your digital front door is important because patients lack patience, and they want things their way, their time, through their medium. So that digital front door has to tell them what they can get and where. It tells them where they schedule and how they can do that on their phone. It shows them what their patient portal is and where it would be so they can find out the information that they need to find out about their past prescriptions or their past visits. It's where they can get their wellness and health tips, all from that digital front door. So, step one is systematically gathering insights to identify the trends of both good things that you can tell in your story, and problems that you can turn into opportunities. That's step one, systematically gather insights.
Step two is to then begin to find solutions that leverage digital technology. So, if it is a problem with scheduling, you make ways of doing that scheduling, online and more conveniently, and you tell that story again and again about how it happened, why it happened and what's in it for the patient – the current or prospective patient. Once someone is scheduled, you use automatic reminders, and you talk to them about how important that is. You incorporate telehealth and all these to reduce patient no-shows. And you begin to, in the second step, find solutions to improve and enhance that patient journey, that patient experience through digital because that then saves time for you and your patients. Because patients lack patients. It manages your resources better, often reducing costs by using telehealth or not having someone talk to a live person. And it builds trust because the more your digital front door makes things easier and makes that patient experience better and gets them the answers they want when and where they want them, that builds trust. So, it saves time, builds trust, manages resources, which reduces costs.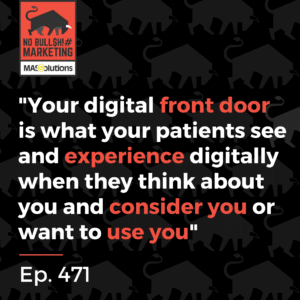 So those are steps one and two systematically gather insights that identify trends of what's going well and where you have a problem and, therefore, an opportunity. Number two is provide digital solutions around what's working and what's not working to enhance that patient journey, to enhance that customer experience so you can retain existing patients and obtain new patients. The third step then incorporates your storytelling. And there are two or three major parts of the storytelling. One is your patient storytelling. That's obvious. You want to talk to current and potential patients, and you want to use anecdotes and analogies that they'll relate to. So, you want to use anecdotes and analogies that talk about how you've enhanced the patient journey, and how it can be convenient to them through digital solutions, and how your providers have compassionate care and the expertise to get things done. So that's patient storytelling, but you also need B-to-E, business to employee storytelling, which are stories built by, for and about your current and prospective employees. B-to-E storytelling helps with the three R's, recruiting, retention and results. Results because your productivity goes up when communication is enhanced, through business to employee storytelling, B-to-E storytelling. Your recruiting is helped by telling your recruitment story and B-to-E storytelling. Your retention is helped because you've talked about employees and built that story by, for and about employees. That's the B-to-E storytelling. A third type of storytelling is referral source storytelling. You have referral sources who send you patients. It could be other physicians, it could be healthcare systems social services, utilization of review patient discharge, it could be others in health care, could be someone for senior living that was a social services type agency. You have referral sources, those referral sources need to have a systematic marketing plan – systematic, the key word – leveraging the art and science of marketing and the art and science of storytelling. And you have to have specific anecdotes and analogies built for those referral sources. Maybe some of the stories from your patient storytelling might work. Maybe some of the stories from your B-to-E storytelling might work. But there will also need to be unique ones built for the referral sources so it's in their language, in their problem-solving needs. So that's the third type of storytelling. So, you got patient storytelling, B-to-E storytelling, and referral source storytelling. That's all part of step three, which is tell the story to reach, connect and engage with each target audience.
That's why this episode was about how digital solutions can combat medical provider and staff burnout, or the way digital solutions can do that is focusing on how digital solutions can save time, can save resources and costs, and build trust. And you do that by systematically gathering insights from employees and from patients. You then look at those insights and you come up with the trends and the solutions around the problems that are happening, and you build those solutions, whether that is through a call center or through scheduling done online or reminders, or whether that is through the patient portal, or analytics or whatever you come up with solutions that help with that patient journey, that patient experience. And step three involves telling your story in three different ways. Patient storytelling with anecdotes and analogies, business to employee storytelling with anecdotes and analogies to help the three R's of recruiting, retention and results. And third, referral source storytelling when you have a systematic referral source marketing plan that maps out your ongoing series of touches to communicate, anecdotes and analogies that referral sources will relate to so that they can be confident in referring to you. This all ties back to your organization, your employees, your providers, and helping reduce their stress, save them time, and save the organization money. So that is how digital solutions can combat medical provider and staff burnout. 
Thanks for listening to another episode of the No Bullshit Marketing Show recorded here in MASSolutions studio in bold, beautiful, downtown Pittsburgh, Pennsylvania. Remember, ask yourself what's the big idea? And build your story around the answer. It's all about bold solutions. No BS.
Important Links 
Listen Here