How an Ad from UNTUCKit Jogged a Valuable Business Memory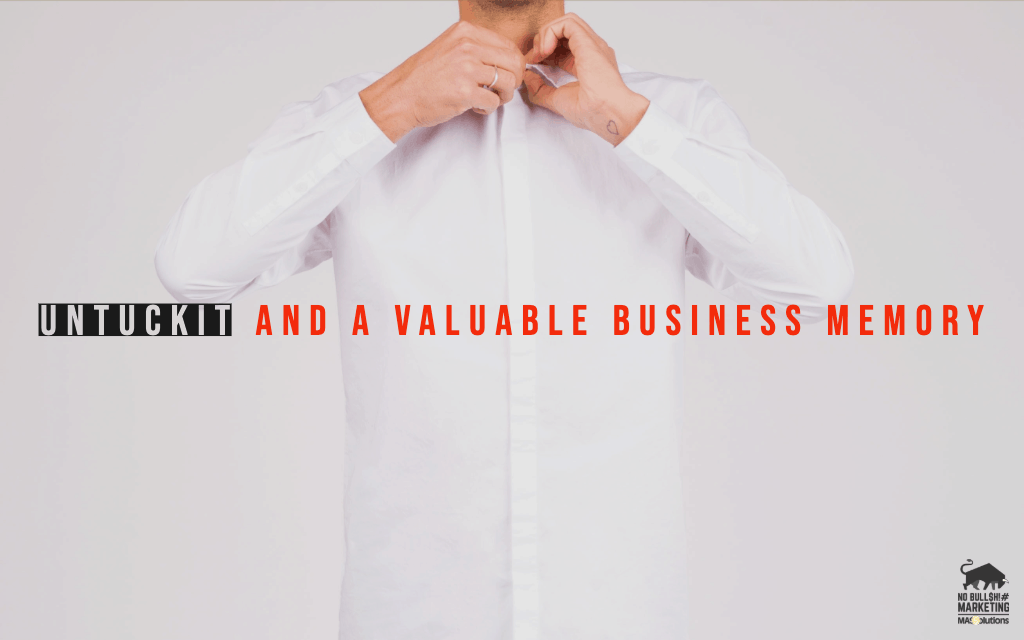 With the end of one year quickly approaching and the start of a brand-new one on the horizon, I always like to take stock of the past year and beyond to help prepare myself for what's to come in the future.
While doing that, I think about those stories that no matter the year stick out to me because they were pivotal moments of my career. Their messages are seared in my memory and the lessons I learned have stayed with me. 
It's funny how those memories can be triggered by something as simple as a commercial. And this happened a few years ago when a commercial from UNTUCKit caught my attention and jogged my memory of a story from earlier in my career…
I was at a point early in my career when the CEO of a major hospital who hired me to lead their marketing efforts, was let go.
There was a gap to fill at the top and the board of directors brought in an outside consultant to serve as the interim CEO and take note of the viability of replacement candidates.
It was the consultant's first day, so I decided to head over to his office and introduce myself and share a list that I created of the top 11 initiatives that he should focus on in his first 100 days.
It was a bold move and his reaction validated that. 
He was probably thinking who does this kid think he is telling me what my priorities should be?
But, despite what he might have been thinking, he told me to drop it off and he'll take a look at it. 
Funny enough, it turns out that eight of the items on my list were also on his and he quickly dubbed me "Bullet" because I was so fast off the draw. 
It was a good start and in the meantime, the board introduced him to the guy they thought should be his key strategic leader. 
He was a Harvard-Yale grad and at that time had been at the hospital for 20 years.
Apparently some board members got into the consultant's ear telling him time and time again that they believed that this guy was going to turn things around for them. 
But, of course, there was a wrinkle and that was that when the consultant started to peel back the onion to figure out who was actually doing the hands-on change management work to improve the business, a name other than the guy who had been there 20 years kept popping up. 
The name was Dave Mastovich.
My name kept getting brought up which led the interim CEO to keep giving me more and more problems to solve. Thanks to a team of talented people, we began to have more and more success. Then came the day I'll always remember. The interim CEO was walking by my office. After passing it by, he backtracked, popped his head in the door and said:
"Hey Bullet," he says. "IUP 1, Harvard-Yale 0."
What?
He clarified,  "I fired the other guy. You're it."
That consultant, the interim CEO, was George Hartnett, and he went on to become my mentor and one of my closest friends in the business.
Talk about a memorable story, right?
At this point, you're probably wondering, what did that story have to do with UNTUCKit?
Let me connect the dots. 
Years later, George came to a MASSolutions' anniversary party and the next day we met for brunch.
George arrived and as he got closer I noticed he had a disapproving look on his face as he pulled on my shirttail. 
"Why's your shirt untucked?"
The real message that was woven in his words was you're a shirt and tie guy…This isn't you?
At this point, George was mostly retired and wasn't in tune with the current state of affairs when it came to dressing for work. 
I responded, "It's the new normal."
This memory, these stories, flooded back to me when I saw Untuckit's ad.  
We've come a long way from having to wear a suit and tie in order to command respect.
But while "social acceptability" factors like fashion trends and the perceived value of a college pedigree will always change over time, one thing stays the same:
It's not what you look like or where you come from, it's the results you and your team achieve that tell the real story. Those initial results are what gave George the confidence to put me in charge and my team's response to the strategic leadership led to even more results for the healthcare organization.
You can hear more of George Hartnett's wisdom about business and marketing on episodes 217 and 218 of the No BS Marketing Show. And, if you liked this topic, you'll also enjoy episode 320: The Rise of Athleisure.