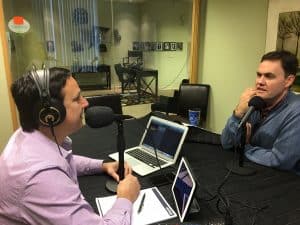 Cut the BS: I enjoy the Citi Double Cash Card–Double Means Double commercials that ask the question: "Wouldn't it be great if everyone said what they meant?" One commercial pokes fun at something most home owners have experienced: The stress of working with contractors on home improvements. The scene in the kitchen has the contractor explaining the situation: It opens with the contractor saying: "I'll over explain the process and give you an unrealistic timeframe…" The husband says: "I'll nod in agreement so my wife thinks I understand what you're saying…" His wife responds with "I look forward to questioning your every move." The contractor ends with "OK. I'll leave your house in shambles and disappear for six months…" The commercial works because we can relate to it and it's funny. But it's also a learning opportunity. Read more…
Guest: Jesse Schell is an American video game designer, author, CEO of Schell Games and a Distinguished Professor of the Practice of Entertainment Technology at Carnegie Mellon University's Entertainment Technology Center. 
Mentors: Tune in to hear about Jesse's lesson in showmanship from a fellow magician and how a professor helped him choose a surprising minor.
Biggest Learning Experience: Listen to hear how Jesse learned the importance of mentoring employees, structure, and organization.
The No BS Show is brought to you by audible.com. Get a FREE audiobook download and 30 day free trial at www.audibletrial.com/NoBS. Try a book like The Girl with the Lower Back Tattoo by Amy Schumer. You can download it for free today. Go to Audibletrial.com/NoBS. Over 180,000 titles to choose from for your iPhone, Android, Kindle or mp3 player.