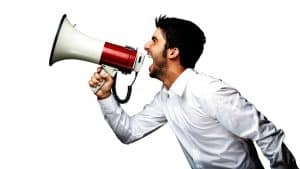 I enjoy the Citi Double Cash card Double Means Double commercials that ask the question: "Wouldn't it be great if everyone said what they meant?"
One commercial pokes fun at something most home owners have experienced: The stress of working with contractors on home improvements.
The scene in the kitchen has the contractor explaining the situation:
It opens with the contractor saying: "I'll over explain the process and give you an unrealistic timeframe…"
The husband says: "I'll nod in agreement so my wife thinks I understand what you're saying…"
His wife responds with "I look forward to questioning your every move."
The contractor ends with "OK. I'll leave your house in shambles and disappear for six months…"
The commercial works because we can relate to it and it's funny. But it's also a learning opportunity.
Think about when you are the customer. How often do you clearly state what you want? Unfortunately, we usually hide our true intentions thinking it will help us in our "negotiations."
When we are the seller, we make promises hoping to close the deal.
Then when we're part of the selling process but not the ultimate decision maker, we "nod in agreement so" others think we understand what's been said.
Try transparency. You'll like the outcome. I know. As a customer, you're worried about being manipulated because we've seen lousy salespeople do it time and again. But you still have control over the process. If you're fair to the seller and they aren't truthful, you move on. But unless you state what you clearly want, you're part of the problem.

As for salespeople, you have a choice. Continue to be lumped in a the "Not Trustworthy Salesperson" Bin or do the right thing and show how sales can be a noble profession.
When you're included in the buy/sell process but don't have decision making authority, your job is to ask good questions and provide clear feedback to the decision maker. Don't just nod and try to guess what they want to hear.
Saying what you mean matters. Just like double means double.