#478
Podcast
478: Top 5 ways your practice can market to existing patients
EPISODE SUMMARY
Physicians spend a lot of time focusing on trying to obtain new customers, when their energy should be focused on retaining current customers. In episode 478, Dave Mastovich talks about being good at what you do, the overall patient experience, being a go-to source of information on health, the importance of digital storytelling and marketing, and business-to-employee storytelling, all of which will aid in your journey to market to existing patients.
EPISODE TRANSCRIPT
It's the No Bullshit Marketing Show. I'm Dave Mastovich, CEO and founder of MASSolutions, the world's only no bullshit marketing consultants. Physicians, physician extenders, dentists, eye doctors, anyone seeing patients talks a lot about new patient acquisition. Yet, the success rate for acquiring new patients is typically about 5%, while the success rate from marketing to and retaining current patients is 70%. 5%, when you put efforts into acquiring new patients, 70% success rate with current patients. That's probably why nearly two thirds of medical practice revenue, 65%, comes from current patients. I'm not saying that new patient acquisition isn't important, it is. And it's difficult. That's why there'll be another episode talking about that. I am saying that we need to leverage both the art and science of marketing so that we can systematically create and tell our story to our existing patients so they keep coming back. Here are the top five ways practices can market to their existing patients.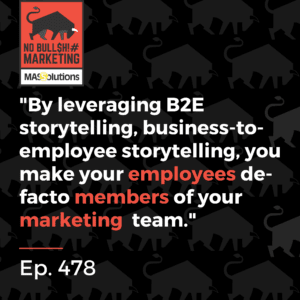 Number one, the obvious, be good at what you do. What's not as obvious is answering the question, what do you do best? Or what makes you unique or special? Time and again, we get hired and we begin the process and find that those clients can't answer that question of what they do best, or what makes them unique or special. And as a result, they don't have a story that differentiates them from the competitor down the street. What you can do is systematically gather insights from your patients, asking them open-ended questions and tracking what you hear to find out what they think makes you unique or special. Then when you build your story around those key items, you'll definitely be able to live up to your promises and your story because it's what you do naturally. It's what makes you you. 
Number two, what's your patient experience like beyond the healthcare part? How easy is it to schedule or change appointments? How long are wait times? What's it like with your billing process? What do you think your patient journey is like? How do they view their patient journey? Again, systematically gather insights by talking to some patients about how they view the journey from the time they thought of working with you and seeing you to scheduling the appointment, entering the office, in the waiting room, in the treatment room, with the provider, closing up to leave, the billing, insurance and any follow up communications. How do your patients define that patient journey? Ask qualitative questions through insight interviews with some patients, use some quantitative surveys, strategize with your team, map out that patient journey as they see it. And then you're able to build a story around that part – the patient journey beyond the healthcare. So the first step was to clearly define what makes you unique by hearing from your patients, and then tell that story. The second step is to map out your patient journey for each of your patients and how they perceive you and see where you are making that journey exceptional and highly customized and customer service oriented. That's the second.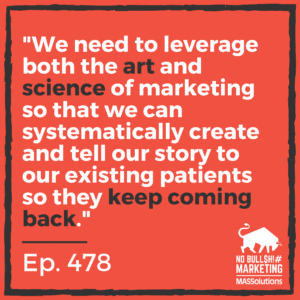 Number three, be their go-to health and wellness resource in your area of expertise. What you want to do is have tips, information, resources available to them on your website, through your email campaigns, and with your handouts that talk about how if they practice health and wellness within your space, what you do, and combine that with the actual health care that you provide, it's going to improve their quality of life and quality of life of their loved ones. You want to be their go-to on health and wellness information related to your space. 
Number four, leverage digital marketing and storytelling. What we found is many medical practices lump all that stuff together and just call it digital marketing. When the first step on this is to really break that out into digital storytelling and digital patient retention and acquisition. There's very different skill sets, tactics, actions and strategies in both of those – doesn't mean they don't work together – but your digital storytelling will include emails, and those emails might have links to a blog post, it might have links to a video. Your digital storytelling will have your online presence, your website, but you also have that digital patient retention and acquisition, which is your SEO, your conversion rate optimization, pay per click, and some of your online web activity with landing pages and so forth. Make sure that your current patients who will still go to your website or still Google you or still check you out to see something they had to find out about you, make sure your digital front door is open and welcoming to your existing patients. 
Number five, focus on B2E storytelling. That's business-to-employee storytelling. Because when it comes to retention of patients, your employees play a huge role. And B2E storytelling means making sure that your employees understand the story about the culture of the company, to understand those first two points. Number one was how we are different and unique and special on the healthcare side, and number two is how we are great and special on the customer journey side. They need to understand that. They need to understand not only their role, but the role of others so they can tell that story to patients as they go through that patient journey. So by leveraging B2E storytelling, business-to-employee storytelling, you make your employees de facto members of your marketing team. They're de facto members of your storytelling team. And they're able to keep those patients happy, satisfied and up to date, so that those patients can become even more loyal. 
If you'd like to learn more about the five ways your practice can market to existing patients, go to MASSolutions.biz/healthcare. Thanks for listening to another episode of the No Bullshit Marketing Show, recorded here in our studio in bold, beautiful downtown Pittsburgh, Pennsylvania. Remember, ask yourself what's the big idea? And build your story around the answer. It's all about bold solutions. No BS.
Important Links 
Listen Here