#347
Podcast
347: Chris Miladinovich Returns to the No BS Marketing Show to Celebrate ProspHire's 5th Anniversary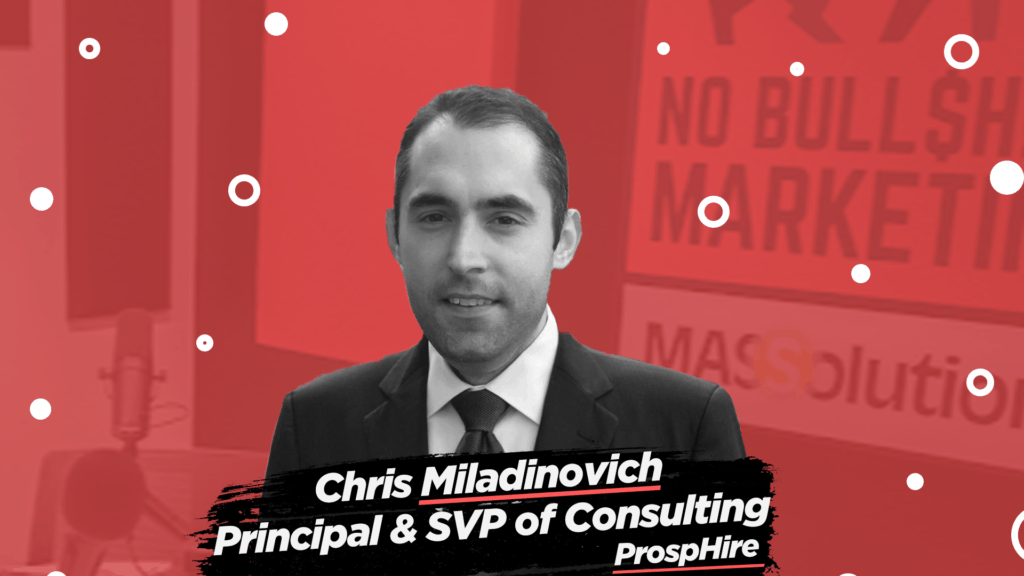 Subscribe to the Podcast
Apple | Google | Podchaser | Spotify | TuneIn | Stitcher
When Chris Miladinovich, the Principal and SVP of Consulting at ProspHire, first appeared on the No BS Marketing Show, the company was a year old and had a handful of employees.
Now, ProspHire has 50+ employees, clients all over the United States, and is getting ready to celebrate its fifth anniversary!
In case you're unfamiliar, ProspHire is a management consulting firm that helps healthcare industry companies like insurance and healthcare providers, hospitals, pharmaceuticals, supply chain, etc. with their business challenges.
During this episode, Chris talks about:
The importance of culture in the workplace
Using PeopleKeys to get a better, deeper understanding of his employees and how to efficiently and effectively manage his team
How he utilizes B2E Marketing at ProspHire
What he's learned in the first five years of business
His plans for the next 5+ years at ProspHire
& much more
If you haven't already, listen to part one and part two of Chris's first interview on the No BS Marketing Show. 
Connect with Chris on LinkedIn & follow ProspHire on Facebook, LinkedIn, and Twitter
—
Don't forget to connect with Dave for more tips and information on leadership, advertising, B2E marketing, communication, brand strategy, marketing, and more on LinkedIn.