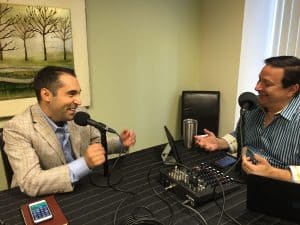 Cut the BS Rant: In the movie "A Few Good Men," Tom Cruise's Lt. Daniel Kaffee and Harry Caesar as Luther the News Stand Guy have an ongoing communication battle to spout the best (or worst) cliché. These scenes resonated with some of us because we suffer from cliché overload—we've heard too many clichés, too many times.  But cliches can help communication if you use a No BS approach and apply them in appropriate situations. Here's one example:
"It's not what you know, it's who you know." 
While this cliché is partially true, it only tells half the story.
Yes, who you know and who you surround yourself with will ultimately shape you and your successes.  But, you have a tremendous impact on 'who you know.'
Relationships don't just happen.  They are created by an intentional investment of time and effort. Communication plays a major role. Be open, transparent and commit to it.
Guest: Chris Miladinovich is a Founding Principal and VP of Consulting at ProspHire responsible for Firm Operations and Client Service Delivery of business and technology professional services. He's also Treasurer for Condor Aero Club, Inc. responsible for the financial strategy and operations of the region's largest flying club of 130 members.
Career Journey: From Chris's first job at Shop'n'Save through his work with a moving company to today, he's learned the value of relationships. After graduating from Duquesne University, he was selected from a large pool of candidates by Deloitte Consulting. He spent 7 years with Deloitte and gained an understanding of the importance of culture. Deloitte University, the company's training and development program, is a great example of a company promoting their culture.
Chris also worked for UPMC and a small consulting firm prior to making the leap and starting ProspHire.
Mentor: Don Farr of Don Farr Moving showed Chris the importance of understanding people and matching up their strengths with their responsibilities.
Biggest Learning Experience: Chris quickly learned the importance of being a fit during his brief stint at UPMC. He realized he needed a variety of experiences in multiple industries, admitted his mistake and moved on. He ran into a similar problem with a small consulting firm where he had to over promise and under deliver. He developed a plan to move on and start his own firm.
The No BS Show is brought to you by audible.com. Get a FREE audiobook download and 30 day free trial at www.audibletrial.com/NoBS. Over 180,000 titles to choose from for your iPhone, Android, Kindle or mp3 player.