Is This Why Eat'N'Park Smiley Cookies Are So Popular?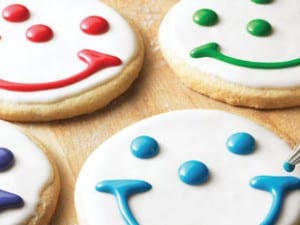 Research Shows You May Feel Better About Eating a Cookie If It Has a Face on It.
In an experiment, dieters felt less conflicted about eating a cookie if it had been given two icing dots for eyes, a line of icing for a mouth, and a name; on average, they registered 3.23 on a 1-to-7 conflicted-feelings scale, versus 4.25 if they had been given a plain, nameless cookie, says a team led by doctoral student Julia D. Hur of Northwestern University's Kellogg School.
According to the study, titled When Temptations Come Alive: How Anthropomorphism Undermines Self-Control, it's not that people like foods better if they're anthropomorphized (made to seem humanlike), it's that they seem to feel less responsibility for having chosen to eat them, the researchers say. The reasons for this are unclear.
Must be why Eat'N'Park's Smiley Cookies are so popular…