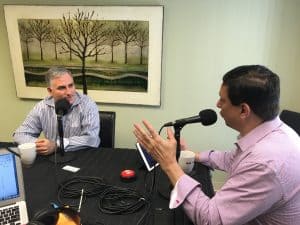 Today Dave kicks off the show with a rant about the podcast genre – a radio on demand concept that is taking the world by storm. With more than 1 billion listeners in 2015 – 75 million of those unique listeners, podcasts entertain, educate, inform, inspire and connect.
Our guest is Steve Tanzilli, Chair of the Department of Management Program at Point Park University. This Boston-born sports enthusiast found his way to Pittsburgh through a running scholarship to Duquesne University. His love of sports led to an internship with The Pittsburgh Pirates, and then the Johnstown Steel. His career started in law and then centered on sports/entertainment marketing.
Steve tells us about his background helping to bring the Bassmaster Classic to Pittsburgh, as well as helping to launch the 84 Lumber Classic. Most recently, Steve can be found leading the charge of Point Park University's Department of Management Program, a hands-on, practical experience-based program that entrenches students in sports, arts and entertainment management.
Part Two of this conversation goes live Thursday, April 28th.