#134
Podcast
134: Social Media Matters to Your Reputation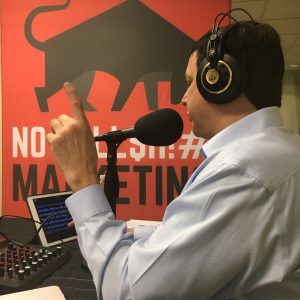 Social Media & Digital Engagement Matters to your reputation. Two out of three consumers say their perceptions of CEO's affects their opinions of their companies.
Senior leaders need to embrace social media and not just with their company's accounts. Senior leaders need to have their own social media presence.
You have a choice. It's a Now or Later kinda thing. You can get on board—for real—now or later.
It's about Attention & Influence not Selling & Telling.
Since we're talking about CxO's or the C-suite AND the importance of embracing Social Media, the tool to discuss today is LinkedIn. We can talk about the power of LinkedIn for multiple shows and in fact we will. But today the focus is on one specific part of LinkedIn and how that part is a important for CEO's, entrepreneurs, marketing and messaging professionals and really anyone. Your LinkedIn bio tells a lot about your company. Your LinkedIn bio is often the first or second impression that people—prospective employees, customers, strategic partners—will have of your organization. Yet many CxO's and entrepreneurs barely focus on leveraging their bio.
As the CEO or a senior leader, you are a key brand ambassador for your company. LinkedIn gives you the opportunity to tell BOTH your personal story and your company's brand story at the same time. You can tell people what you're all about AND what your company is all about. Why fumble that opportunity?

Remember that LinkedIn is one of the highest-ranked sites on Google when people are searching your name, so it's important that your bio do you and your company justice.
An incomplete LinkedIn profile gives the impression that you and your company aren't detail-oriented or serious about social media which in today's world means you aren't serious about branding!! That's right. Not updating and maintaining your LinkedIn profile makes you and your company look bad. You might not want to admit it Mrs. CEO or Mr. CFO but it's true.
The interesting thing is that many companies will take the time to put a bio on the company website…which means it's not about you NOT having the bio or about you NOT wanting the bio to be out there on the internet…so what's the reason? C'mon man! Get with the program. Update your LinkedIn bio…that's step 1…then start leveraging LinkedIn.