Progressive's Flo or Jake From State Farm? How You Can Follow Their 4 C's to Success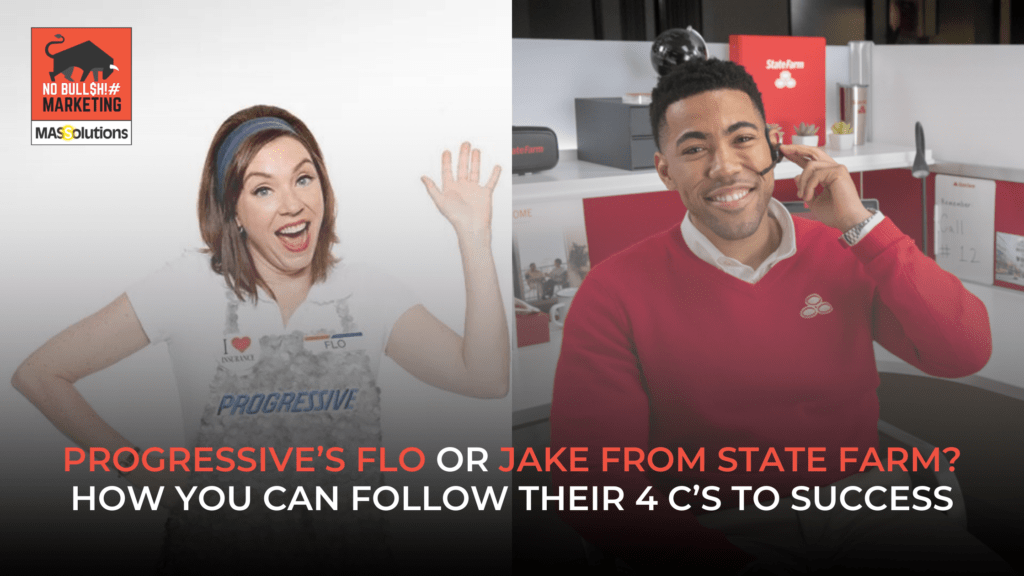 It has been years since Progressive's Flo or Jake from State Farm made their commercial debut, yet we still can't get enough of them.  Both have been Halloween favorites for years, and almost everyone from Gen Z to Baby Boomers can recognize their iconic image. Beyond that, they have made the advertising of a dull product into something fun and memorable.
Stephanie Courtney began playing Progressive's Flo back in 2008, nearly 13 years ago. She's done more than 100 commercials featuring her bubbly attitude and signature look—name tag, bright white uniform, retro hairstyle. Flo was named one of the Top 10 Female Ad Icons of All time by Advertising Age.
Jake is played by Jake Stone who was an actual State Farm agent before landing the role in the company's ad campaign beginning in 2011. Stone has become a cult icon and was even the victim of a celebrity death hoax on the internet.
Both Jake and Flo have helped their respective companies increase brand awareness by following these 4 C's to brand success:
Context: What's the Big Idea? The Best Brands clarify their message and focus on one main theme when advertising. Making sure you get a great deal. Now that's Progressive.Or  Even at 3 AM. Get to a Better State.
Content: It's more than one ad campaign or a quirky character. It's an entire content strategy that leverages multiple mediums with a clear, consistent, creative message targeted to key prospects and customers. Know the strengths and roles of each social media network, digital outlet and traditional media vehicle.
Connect: Engage and relate to your audience through authentic story telling. People respond to Flo on Facebook and Twitter as if they're talking to a real person. People see Jake in public and ask him to say "Khakis."
Convert: Lead generation and converting prospects to customers is an obvious goal and the clearest ROI metric. But it also means converting people into fans and followers. What do they believe about you? Can you solve their problems? Do they trust you enough to spread the word about your company? Will they post a positive online review?
Following the 4 C's to successful marketing appears to be an easy task, yet rarely do we see brands achieve it so successfully. A decade has past since these two became an icon in American pop culture. As a marketer, one should ask themselves:
What did these two companies do differently?
How have they evolved these characters into timeless images?
What is the next iconic trend in 2021?
For more chances to choose between two marketing and messaging classics like Progressive's Flo or Jake from State Farm, check out the Hit the Bulls Eye segment on the No BS Marketing Show.
About MASSolutions | Branding Company in Pittsburgh
MASSolutions provides no bullshit marketing insight and solutions for business owners and beyond. They've been a top marketing agency in Pittsburgh for years because of this mentality.
Contact us here.
Listen to our Podcast here.
Learn more about CEO Dave Mastovich here.