Pittsburgh Brand Hot at the Beach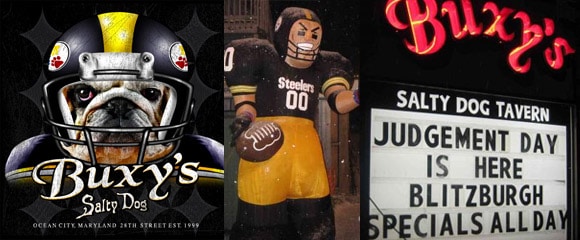 Pittsburgh sports fans are known for passionate loyalty to their hometown teams.
They are also known to travel well, seemingly turning Super Bowls into home games with huge numbers of Steelers fans in attendance.
The "travel well" distinction could be expanded to include the beach, specifically Ocean City, Maryland. Vacationing Steelers, Penguins and Pirates fans can get a taste of Pittsburgh in more ways than one at Buxy's Salty Dog, an Ocean City Sports Bar and Restaurant with local ties.
Doug "Buxy" Buxbaum is a Johnstown native and IUP alumnus who bleeds and feeds Black & Gold. He calls it the Hometown Tavern with a taste of the 'Burgh.
I call it a marketing masterpiece.
Buxy makes it seem like home with customized shirts, mugs, hats and menu items. Imagine walking in after a day at the beach and meeting Pittsburgh fans hailing from A to Z (Altoona to Zelienople) and just about everywhere in between.
"Our goal is to make you feel at home while at the beach. It's all about the hometown teams and tastes. When you're on vacation, you want to relax, have a great time and create memories that will last a lifetime. If we can be a small part of that, we're happy," Buxbaum said.
You can build and leverage your brand too by following what I'll call Buxy's Six Super Marketing Wins:
Know Your Target: Clearly define who you want to reach (Pittsburgh Fans!)
Make It About Them: It's not what you want to sell, it's what they want to buy (Hometown tavern at the beach)
Touch Emotions: Does the target audience care about what you're selling? (Duh!?! Pittsburgh fans LOVE their teams!)
Be Creative: What do you have that no one else can offer? (Have you seen those Salty Dog t-shirts?)
Give It to Them When and Where They Want It: It has to be easy for us to buy. (Convenient location and hours)
Make It an Experience: Value is based on the unique, personalized experience of individual customers. (Buxy's Salty Dog is an experience. Trust me.)