Paterno vs. Freeh: No Winners in PR Battle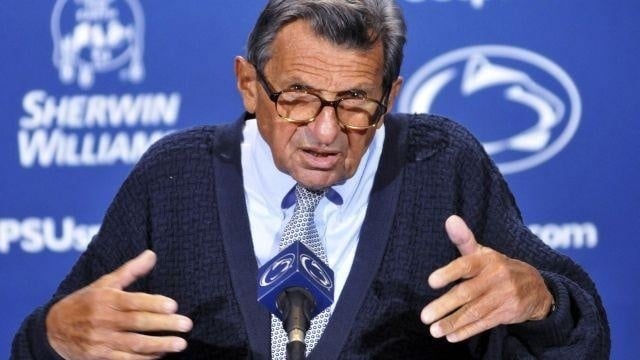 When someone we care about is criticized, it's natural to defend that person. It's understandable family and friends of Joe Paterno would want to defend the former Penn State football coach.
This week, the Paterno family released their report criticizing the Freeh Report, an independent investigation commissioned by the Penn State board and conducted by former FBI director Louis Freeh and his law firm. The Freeh report stated Paterno, former PSU president Graham Spanier and administrators Tim Curley and Gary Schultz had known about allegations of child abuse.
The Paterno family raised "serious and troubling" questions about the Freeh report's findings including that there is no evidence supporting the allegation the football culture at Penn State had an impact on the situation.
Sue Paterno, the deceased coach's wife, and son Jay Paterno appeared on numerous media outlets to discuss the report.
*Sue Paterno called Sandusky's crimes "heartbreaking" and said she prays for the victims.  She also told Katie Couric "if the experts don't know, how can we know?" about Sandusky's behaviors.
*On ESPN, Jay Paterno said the Freeh Report "is based on flimsy evidence at best…he jumps to a lot of conclusions that just aren't supported by facts."
*He also answered questions on his Dad's statement about wishing he'd of done more by saying: "He said with the benefit of hindsight I wish I'd done more. I think knowing what he knew in 2001, he did what anybody else would do…"
*Since Louis Freeh and his organization didn't really have a national image prior to the case, they took the approach of issuing a statement rather than conducting interviews: "The self serving report the Paterno family released today does not change the facts established in the Freeh Report. I stand by our conclusion that four of the most powerful people at Penn State failed to protect against a child sexual predator harming children for over a decade."
Rebuilding an image after a scandal is a huge challenge. The general public tends to remember an overarching message. Changing the gut feel instincts of people by focusing on specifics or legal/technical requirements is particularly difficult.
When President Clinton attempted to make his case during the Monica Lewinsky scandal that "it depends on what the definition of is is," it didn't improve public perceptions and was met by a combination of disbelief and frustration by many.
Jay's comment that his Dad "did what anybody else would do" isn't going to change perceptions of those who think his Dad should've done more.
It's difficult to decide when to kickoff a PR campaign to rehabilitate an image. Did the Paterno campaign begin too soon? Will rehashing the story have a positive or negative impact on public perceptions?
In the end, it's still a sad story and most people will probably maintain the same perception of the parties involved that they had prior to release of the Paterno Report, regardless of the PR efforts on both sides.
What do you think? Is the Paterno campaign dredging up bad news or will it change opinions? Should Freeh defend his report more vigorously?
David M. Mastovich, MBA is President of MASSolutions, an integrated marketing firm focused on improving the bottom line for clients through creative selling, messaging and PR solutions. He's also author of "Get Where You Want To Go: How to Achieve Personal and Professional Growth Through Marketing, Selling and Story Telling." For more information, go to www.massolutions.biz.