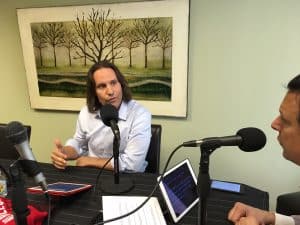 This week's guest is Eric Guy – licensed social worker, speaker and senior partner of Predictive Synergistics. This McGuffy High School, Westminster College graduate and former football running back started out in criminal justice until his professors and mentors noted his ability to maintain calm in chaotic situations. This gift led him into social work, initially working with inmates at a prison in New Castle, until he designed his own in-home program that helped couples and families. He gradually worked into behavioral analytics in the workplace where is company, Predictive Synergistics, has made a powerful mark with businesses of all sizes.
Eric is a strong believer that self awareness and authenticity are the best traits a leader can possess. These traits bring out the best in others. He encourages others to "Do you, responsibly. Understand yourself. Understand others and determine if you can have a complementary relationship. This creates a happier, more balanced environment."
Part Two of our conversation with Eric Guy will go live Thursday, June 2nd.