Practicing What You Preach: MBA Programs Adapt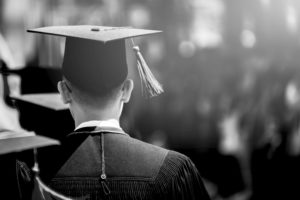 Business schools teach students to adapt, innovate and focus on understanding their customers. With enrollments dropping, it's time for MBA programs to practice what they preach.
According to the Graduate Management Admission Council's 2017 Application Trends Survey Report, 64% of U.S. full-time MBA programs received fewer applications.
Why the drop?
1. An improved U.S. economy results in lower unemployment rates which reduce the number of college graduates applying for MBA programs.
2. Fewer employers offer paid graduate programs as an employee benefit, which shifts the cost of MBA programs to the employee. This leads to more student loan debt which is already at an all-time high of $1.4 trillion.
Before deciding whether or not to enroll in an MBA program, students want to know what the ROI is on their investment in time and money. They demand more flexibility and greater specialization in hopes of seeing a larger return on their investment. Perhaps it's something they learned while in business school.
Bloomberg Businessweek highlighted how some of the leading MBA programs are understanding their customer opportunity by adapting to what both students and employers are looking for. These programs drilled down, defined their key target markets, found out what they wanted then set out to develop and give it to them.
Winning Programs
Harvard Business School developed a joint Master of Science and MBA program by partnering with its engineering school. The goal of their program is to combine business and technology. The new program will be offered in August.
Michigan's Ross School of Business created a business experience program where students work for a real company to test ideas. It differs from traditional internships in that students actually run businesses.
The University of Pennsylvania's Wharton School of Business offers an interdisciplinary Juris Doctor-MBA program and trains academic advisors to help students customize their degrees.
Meanwhile, part-time and online offerings continue to grow to match students' desire for flexibility.
So what can MBA programs do?
1. Leverage Marketing Intel. Find out how potential and past customers perceive your school's brand. Compare your brand and digital marketing with that of your top two competitors. Be brutally honest by admitting shortcomings and develop ways to overcome them.
2. Drill down into your key target market segments. Customize your marketing so that it's tailored to each "sliced and diced" segment.
3. Don't neglect key target markets. These include your employees and referral sources. You want your employees to tell your story in a consistent memorable manner. And you want successful alums and business leaders to refer potential students to you.
Are you signed up for the No BS Marketing weekly update? You'll receive timely, valuable ideas to improve your marketing and transform your message. It's light, intended to be read in 2 minutes or less and it just might trigger bright ideas for you. To sign up, visit: massolutions.biz.
Remember, ask yourself: What's The Big Idea and build your story around the answer. It's all about Bold Solutions, no BS.