Marketing Lessons from the NBA Finals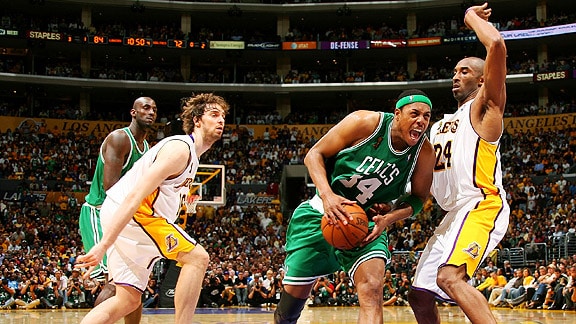 The Los Angeles Lakers beat the Boston Celtics last night to take a 2 games to 1 lead in the best of seven NBA Finals. Since you can easily find more than enough sports analysis on the game, I'll break down the marketing lessons to take from it:
The Celtics Ray Allen set an NBA Finals 3-point shooting record by hitting 8 three-point shots in game two. He followed that up by missing all 13 of his shots the next game, nearly tying the record for worst shooting performance in the NBA Finals. The lesson? Don't get too up or down when selling because you never know what's around the corner. Be consistently positive instead of super high after a sale or really low when prospects don't buy. Being told "No" is guaranteed but "Yes's" will come if you do your Pre Call Prep, segment prospects, make calls and build relationships.

Derek Fisher's clutch performance in the fourth quarter was the difference for L.A., proving that everyone needs to do their part to help the team. You don't have to be the top salesperson or the Kobe Bryant of your company. The steady, consistent Derek Fisher's of your team are the ones that ensure company goals are met.

Leadership involves more than just studying the stat (or spread) sheet. Coaches like Doc Rivers and Phil Jackson provide structure and overarching goals but also motivate each player differently. Rivers is almost preacher-like and pumps up the troops. Jackson takes a much more methodical approach with the Lakers. But both coaches tailor their messages for each target audience because players (and employees) all respond differently.

Referees (and clients) don't always do what you expect. In the Finals, video replays have led referees to reverse decisions at critical times and controversial fouls have forced key players to the bench. Marketers need to adapt to client behavior, revise accordingly and move on. The game and the sale will be won or lost regardless. Dwelling on behavior beyond your control isn't going to change it.
Let's hope the 2010 NBA Finals continue to offer exciting basketball and valuable Marketing & Sales lessons.
E-mailWebsiteTwitterLinkedInFacebook