Is the Traditional Business Card Dead?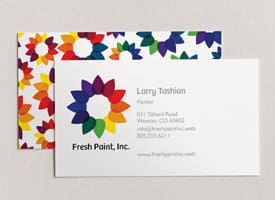 In the online, connected world we live in today, is the traditional business card dead?
Company websites include About Us and Contact sections. Smartphones allow for real-time exchange of personal info. Social media outlets like LinkedIn, Facebook, and Twitter combine with search engines to make it easy to gather information about people.
Who needs a 2 X 3-inch piece of paper that might make you seem dated, uncool or out of touch, right?
Not so fast.
Business cards should still be a part of your marketing toolkit for a number of reasons.
The Touch: We place value in things we can touch, feel or hold. Sure, we might lose or misplace someone's business card, but we rarely just throw the card away. The more we can see or hold the card, the more likely we are to follow up. Plus, exchanging business cards is a marketing touch that can lead to ongoing communication.
Credibility: While not as powerful as in the past or as important as your website, your business card still provides credibility that you and your company are "official" and serious about doing business.
Tradition: At the risk of sounding ancient to those twenty-somethings who carry on conversations with their eyes glued to their phones, business cards are a part of business culture. We instinctively hand out and ask for cards when in a social, networking or selling situation.
It's Easy: You take the card, glance at it, put it away. No entering data in a crowded, noisy room. No loss of eye contact with the person who gave you their business card. And, plenty of apps are available to make transferring the data to your contacts easy.
It Doesn't Hurt: Some people might think you're old or old school. But that's probably the exception rather than the rule. Exchanging business cards typically doesn't hurt and obviously can be a good thing.
Plus, your business card can leave a lasting impression with creative design, size, shape, and printing. And you can include more than just the standard logo, name, and contact info. Twitter and LinkedIn handles and QR codes linked to VCards and websites provide insight into you and your company.
Your business card should be part of your marketing and storytelling efforts. Don't leave home (or work) without it.