Geico's Gecko or the AFLAC Duck? How Your Favorite Mascot Can Help Your Marketing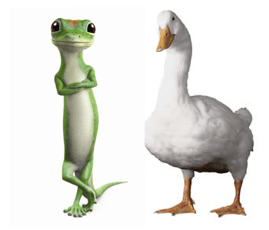 Who do you like better as a messaging mascot: Geico's gecko or the AFLAC duck?
Each was created through a combination of intel, instincts and ingenuity. Both helped build brands and became part of pop culture.
In 1999, the Screen Actors Guild strike prevented the use of live actors in commercials. Geico worked around the problem by creating the gecko. The original commercial was voiced by Kelsey Grammar and the commercials now feature Jake Wood as the gecko who speaks with a British Cockney accent. Why? Because it would be unexpected and gives the gecko a working-class feel, according to Geico's ad agency.
The gecko was voted America's favorite advertising icon in 2005 and Geico recently passed Allstate to become the second-largest provider behind State Farm in the hyper competitive auto insurance market. Advertising is particularly important to Geico because it sells directly over the internet rather than through a network of agents.
Despite decades of advertising, name recognition of American Family Life Assurance Company was still under 10%.The company was unable to stand out from the crowd of competitors with names that began with "American," so they decided to use the acronym AFLAC.
Their advertising agency created and tested two commercials: One featuring Ray Romano of Everybody Loves Raymond, a top rated sitcom at the time, scored an 18—18% of the people polled recalled the company's name after watching it. Since the industry average was a 12 score, AFLAC had a safe option in the Romano commercial.
The second concept consisted of a duck voiced by Gilbert Gottfried quacking the company's name. While it seemed no one at the company got it, the commercial scored an eye opening 27 when tested. AFLAC took a chance on the duck ad and decided to run it for two weeks beginning New Year's Day 2000. In the first year, sales were up 29% and doubled in three years. Name recognition hit an astounding 67%.
4 Marketing Tips from Geico's gecko and the AFLAC duck:
Focus on Solutions— Both the gecko and duck were created to solve a specific challenge. The solution succeeded way beyond the initial reason for doing it.

Simplify Your Message— A gecko talking about savings. A duck quacking. Keep it systematically simple.

Make it Memorable—Kelsey Grammer, Jake Wood, Gilbert Gottfried. Animations of the gecko and duck. Recognizable voices and memorable imagery.

Commit to Your Big Idea— Geico sells directly over the internet and needs creative advertising to reach and influence their target audiences. AFLAC knew the acronym was more memorable than the longer name.
Have you heard our latest No BS podcast? Catch up – and let us know if you have a good idea for a guest. We're always looking for great new content and conversation!