Find Your Happy Place with a Twin Pop and Some No BS Marketing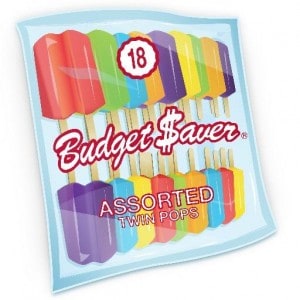 Have you ever enjoyed a Twin Pop? 
Those tasty treats found at places like Walmart and Giant Eagle are produced by The Ziegenfelder Company headquartered in Wheeling, West Virginia. 
I had the chance to interview Lisa Allen, their Chief Executive Officer, as a guest on my No BS Marketing Show. When I asked her about their Big Idea, she said the Ziegenfelder Company follows three simple rules for their products:
1. Looks good.
2. Tastes good.
3. Doesn't cost a lot.
Makes me want to have a Monster Fudge Twin Pop.
Lisa also talked about how they make the ultimate customer, those of us who enjoy and buy the stuff, the focus of their product development and distribution. This approach is different in their industry. Traditionally, food companies consider distributors of the product, like supermarkets and grocery stores, the main audience.
She went on to describe their intellectual property or trade dress that outlines how their product is packaged. It's called the Rainbow Array which means every package of Twin Pops has 6 different colors in each bag, clearly visible to us when we shop.
Competitors can't present 6 colors in a clear bag so Ziegenfelder showcases the Rainbow Array on basically anything connected with the company—packaging, business cards, website, social media, advertising, etc.
Lisa Allen likes to say that her company is in the business of making smiles. I'd add that they've made a memorable brand too. Here are some No BS Marketing tips to help you build yours:
*Follow the new KISS: Keep it Strategically Simple. Focus on one Big Idea. Looks good. Tastes good. Doesn't cost a lot.
• Make It About Them—Your Key Customers. Do the Marketing Intel. Ask them what they want and then listen. Leverage what you learn so you can give it to them when and where they want it at a price they're willing to pay.
• Message Consistency Matters. Be vigilant about how you present your brand and take advantage of every opportunity to do it right. Stay true to the logo, slogan, key messaging and visual elements.
• Find Your Happy Place with a Twin Pop. Which one is your favorite? Monster Fudge, Banana, or another flavor? Email me and I'll ask Lisa to send you a free bag.
To listen to the full interview with Ziegenfelder CEO Lisa Allen, click here.