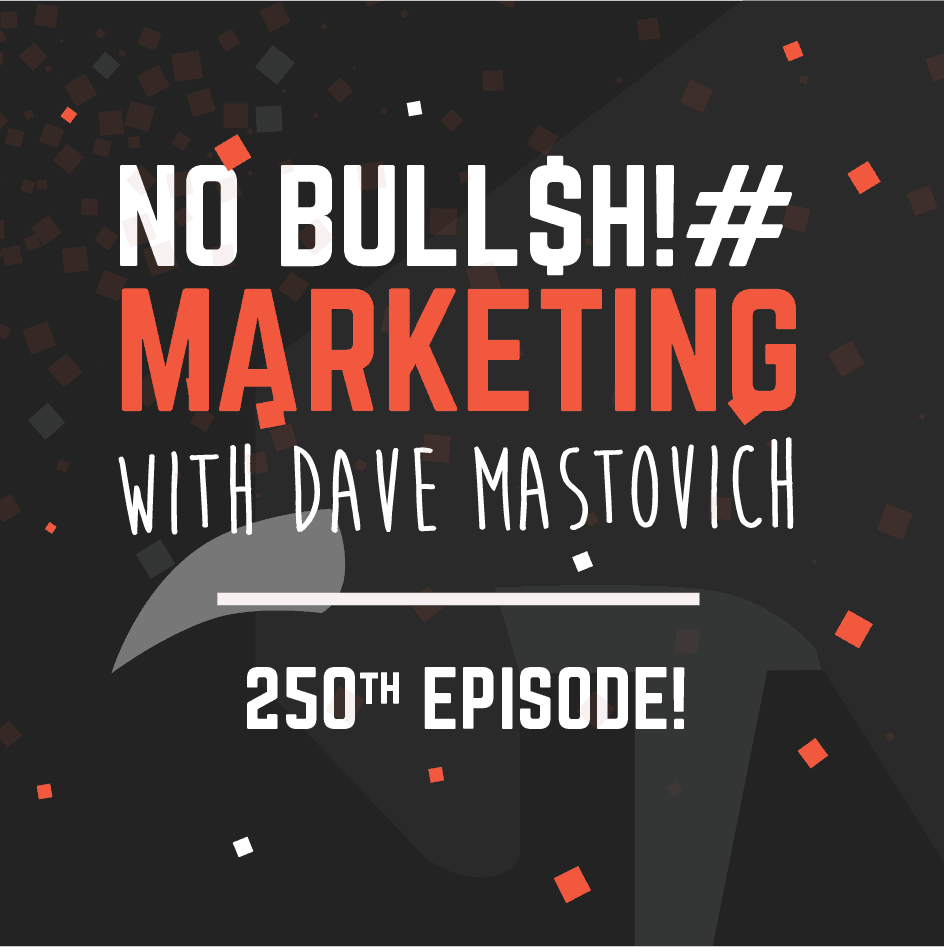 We're trading places like it's 1983. To celebrate the 250th episode of the No BS Marketing Show, Dave Mastovich is our guest and Annie Spewak is our host. Say what?!
This show is all about how Dave got to where he is today: CEO of MASSolutions, Speaker, Author, and professional No BS'er. From DJing weddings to marketing turnarounds to leading a billion-dollar HealthCare giant…Dave's story is full of excitement. As if that surprises anyone.
Key Takeaways
[01:33] Dave's DJ Past
Different DJ philosophies
Would Bonita be a wild guest?
How someone tried to ruin Dave's equipment
[05:25] The Life of Dave
Family's impact
Sports, music, pop culture
Challenge to write and speak
Dave Mastovich's glare
Humbled
Comic book creation
[11:22] Dave's Path
Turnaround marketing at radio stations
Dave left the music on his demo tape
"The big glorious job" wasn't so glorious
[17:29] Getting Comfortable With Being Uncomfortable
When someone tells you that you can't or won't be able to do something
Do things that no one else, or you, want to do. It'll change you.
Prioritize lists
[22:12] Knowing Your Value
"They didn't see value in you until you left."
[24:27] UPMC and Monongahela Valley Hospital
Thankful for John Paul, Jeff Romoff and Tony Lombardi
Dave needed to know he could lead in a stable environment
Functioning in highly structured environments
When Dave argued with a surgeon on his morning jog every day for over a month
[29:45] UPMC
Great place, not the right fit
Dream job, but it's just not right
[30:25] MASSolution's Culture
Learning from the past bad culture moments
Avoiding mistakes
Predictive Index
Balance, do what you need to do
Everyone deserves real marketing
[35:18] What's Success P1?
Success like beauty is in the eye of the beholder
Define what success means to you
Real marketing for all…am I doing real marketing?
[39:45] Dave's Go-to Basketball Move
[43:30] If MASSolutions Was a Comic Book, What Would It Be?
[44:56] Dave's Player Picks
[49:40] What's Success P2?
Be passionate, work hard
Money is just a way to keep score