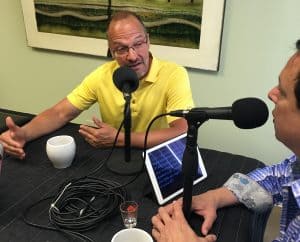 Wanna learn the do's and don't's of business email? Dave tells it like it is with a rant about email etiquette.
Then, meet Jamie Protin, principal with The PROTINGroup. Jamie is a proven leader, community builder, writer and philosopher living his WHY every day. Jamie's work within the mid-Monongahela Valley as president of the Chamber of Commerce and beyond is actively turning this community around. In today's interview, he talks about the start of his career at PennDot, branching into engineering and his leap into his own business.
His realization of self employment came in the form of being in an environment where the culture didn't support people. He saw too many people go home broken – and decided to make a change.
"The ideal client for me is one that allows me the opportunity to give back. I measure success by the impact I make with people."  – Jamie Protin
Part Two of our conversation with Jamie will go live Thursday, May 5.