Create a Buzz, Speak with Clarity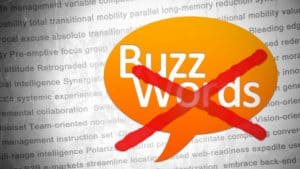 Buzzwords drive me crazy for a number of reasons. It seems like some people love to throw out phrases and acronyms instead of speaking with clarity.
Plus the phrase of the day, month or year often means something different to each person or market segment because since it's a new phrase, the definition hasn't been clearly conveyed to the masses.
One such phrase that became more and more prevalent in 2016 is Social Selling.
I've read and heard phrases like "all selling is social" and how important it is to have a social selling mindset.
But like the name Podcast, social selling is a bit of a misnomer. Social Selling actually isn't really social or selling. It's not about closing the deal or about doing more online than offline.
Social selling is about providing your prospects and customers value through online social media communication AND then taking the conversation offline to create real connections.
LinkedIn offers what it calls the 4 Pillars of Social Selling:
Create a strong professional brand to increase your visibility to your desired contacts and build trust in your industry.
Don't just blanket the world with your pitch. Instead, focus on the best prospects for your industry, and your goals.
Establish yourself as a subject matter expert or thought leader to show that you're an informer, not a me-former. Regularly share interesting industry content, engage with stories shared in your field, and limit how much you promote yourself over others.
Start with genuine conversation.  If your prospects feel like they're immediately being sold to, they'll be less likely to want to build a relationship with you. Remember, the selling comes after the social in social selling.
Let's be clear, Social Selling is all about connections and content.