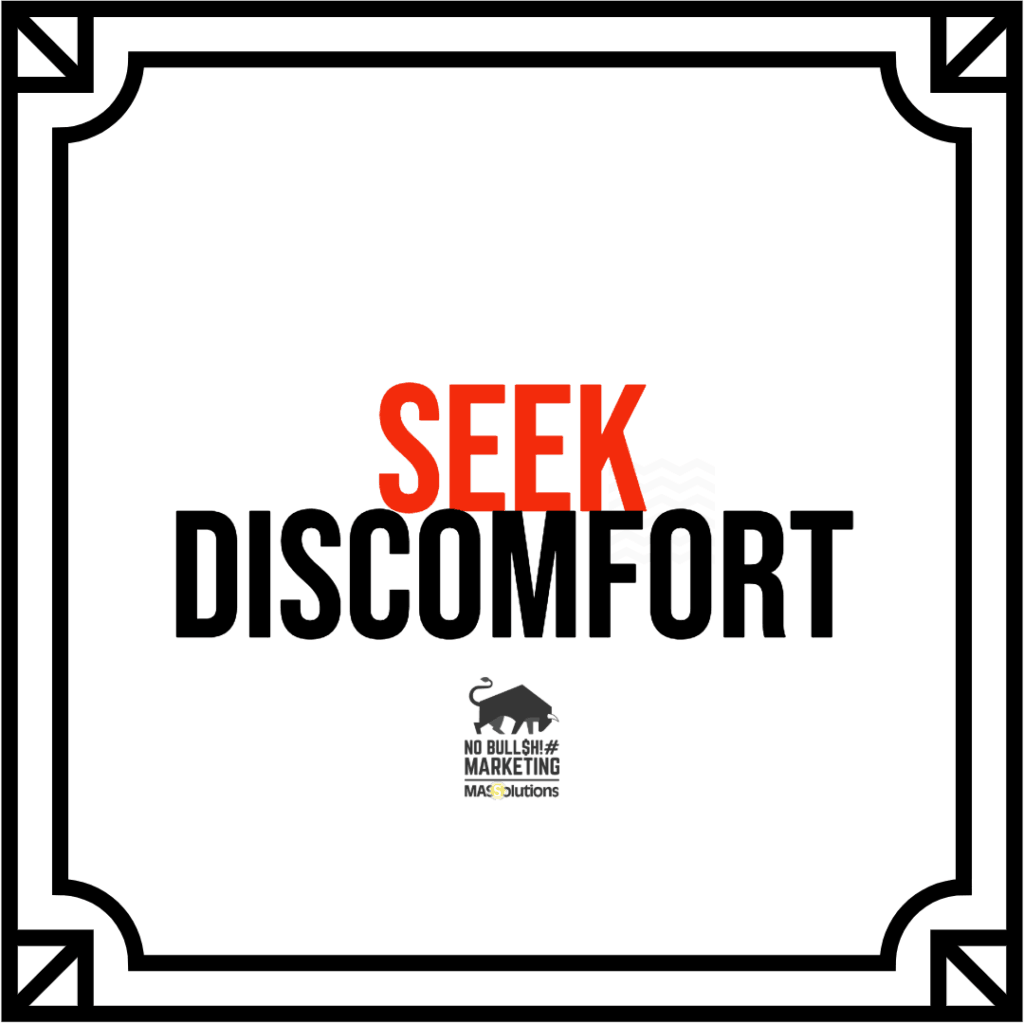 "You never change your life until you step out of your comfort zone; change begins at the end of your comfort zone."― Roy T. Bennett
Change begins outside of our comfort zones. 
Although cliche, it's true. 
Our comfort zones become our safe spaces. They're familiar. We know what to expect. They "protect" us from the edges that if we would move past them, we'd be thrown into uncharted territory and forced to figure things out. 
While our comfort zones are…comfortable. 
They're also stagnant. They hold us back from taking chances.
Our comfort zones keep us where we are. And comfort, especially in business, is bad news. 
I'm talking from experience when I say that leaders have to welcome discomfort. 
I remember starting this blog right when blogging became popular. 
I didn't know what to write or who was going to read it. 
With all these uncertainties swirling around I could have bagged it. But, I sought discomfort. 
I went outside of the lines of my daily life then and wrote my first blog. Now, we have about 13 years of blog posts that I'm proud to share. 
Same for my podcast. Even though I had a background in radio, it was still unfamiliar to me. In most cases, unfamiliarity causes us to retreat and just stick with what we know. 
But I challenged that mindset, connected with John Lee Dumas, and immersed myself in his podcast content on PodcastersParadise.
Since then, I've recorded almost 350 episodes of my podcast. 
In both instances, I was going against the grain of the normal that I knew at that point in my career. However, I knew that I needed to grow with the market and not resist. 
I stepped outside of my comfort zone to actively seek discomfort and it paid off. 
This same mentality has helped grow MASSolutions into a marketing firm unlike any other marketing firm in Pittsburgh AND the United States. 
Our No BS approach is something that I'm proud of and our clients appreciate. 
As a leader, I never rested on my laurels and I never plan on doing so because I know what happens when people get comfortable. 
They stop looking at and noticing opportunities for growth. 
In business and in life, complacency closes our eyes to what could be because we become infatuated with what is and what was. 
As a new year is upon us, you owe it to yourself in 2020 and beyond to seek discomfort and grow into the person you know you can be.