Clearing Your Desk (And Inbox)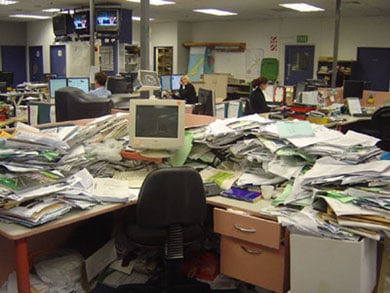 Recently, a colleague of mine teased me about my desk and office being so organized.  He joked that I must not have much to do but ended up asking me how I honed my organizational skills.
Like an Academy Awards acceptance speech, I started off crediting my Mom.  She has always been incredibly organized and taught my brother and me to be so as well.  I was also fortunate to be mentored by some organizational gurus and to work with some top notch administrative assistants over the years.
I'm sure there are many fancy systems for organizing things, but here's one thing I learned from Mom and others:
A piece of paper (and now an email) should only be touched once through one of the following actions:
Act on it immediately.  If something can be done quickly (in less than 15 minutes) and you are not working on an immediate deadline project, act on the task immediately and complete it.  Then, it's done and off of your 'to do' list.
If the item needs acted on within the next week and you can't work on it immediately, place it in your 'To Do File.'  This file will usually have multiple items in it and should be kept nearby your primary work area.  You should also have a 'To Do Folder' on your computer for emails.  The 'To Do File/Folder' must be reviewed every day to make sure you are on top of your main priority items.
If a task requires action within two weeks and you don't want to forget about it, place it in your 'Tickle File.'  The 'Tickle File' should be reviewed two or three times each week. Items in the 'Tickle File' should have a due date written on them so you know to prepare for the deadline.
Delegate or forward the item to someone. Remember to provide specific timelines and action items for the person who has been assigned the responsibility.
If it is something important but not actionable, file it as soon as possible.  If you can't file things quickly, at least file multiple items once a week.
Discard or Delete!  You need to get rid of some emails and throw certain pieces of paper away if they are not relevant now or won't be within six months.  Enjoy discarding and deleting…it should be a liberating experience.
You can fight through the morass of emails and papers that come across your desk.  The key is to touch the piece of paper or email once and then have a plan for it.  And remember to thank Mom for all those things she taught you over the years.
David M. Mastovich, MBA, is the president of Massolutions, a Pittsburgh based Integrated Marketing firm that focuses on improving the bottom line for client companies through creative marketing, selling, messaging and customer experience enhancement.