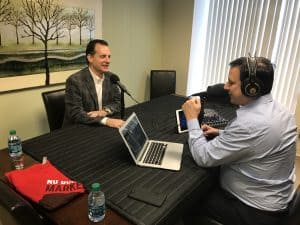 Cut the BS – Business Jargon: Pretend for a moment we've entered a parallel universe. Free of bullshit and full of bold solutions. That's what the No BS Marketing show is all about. I'm your host Dave Mastovich. Our guest today is Steve Agnoli. But first, let's cut the bullshit.
Business jargon is a part of business. It just happens. We all do it. I guess you could say "it is what it is."
I don't have the "bandwidth" to "move the needle" but I do have a hard stop in 3 minutes so this "robust" rant might end without gaining "traction" because the No BS Marketing Show has a lot "of moving parts" that we try to "synergize" in a "proactive" way without "reinventing the wheel."
We'll need to "get all hands on deck" to "empower" the "SWAT Team" so they "buy in" on the "corporate culture" and "core values" "tied back" to "our mission." In other words, specifically for animal lovers, we need a "tiger team" to "get our ducks in a row."
Remember to "Leverage" your "core competencies" to make your "verticals" "scalable" and fit your "ecosystem."
"Let's talk that" and "solution that" while we "peel back the onion" "break down the silos" and "do more with less."
I'd like to "take it to the next level" with this Cut the BS Rant but listeners will be better off if I "take it offline."
So…"the bottom line" is we all do it. And we all miss opportunities to clearly convey our message…with real words not cliches…clarity and brevity…Say what you mean, say it to who needs to hear it, say it multiple times…and Cut the BS.
Interview with Steve Agnoli
The process of working in Information Technology, or IT, is a career that includes more of a customer service aspect than one might expect. On today's episode, I sit down with Steve Agnoli, CIO at Reed Smith, an international law firm that prides itself in offering excellent levels of customer service to their clients. Steve and his team play an integral role in improving processes and integrating services that allow the firm to continue to provide a better experience as the law firm industry rapidly evolves.
Steve's movement through his career from corporate environments to law firms has given him a unique perspective on how IT can be used for positive business transformation. Steve and I discuss how the law firm industry is changing in terms of customer expectations, and how IT needs to play a role in the future. We also discuss one of the crucial challenges in IT development: defining its worth. Steve shares with me the necessity to also be able to speak to how IT advancements provide value. Working in IT is a lot more than sitting behind and working on computers, and Steve provides us a great glimpse into how IT can impact the future and success of a business.
About Steve Agnoli
Our guest today is Steve Agnoli, Chief Information Officer at Reed Smith. Steve is re-sponsible for firm-wide IT strategy, systems and technology operations, process im-provement and support for growth activities. Companies he's served as CIO were rec-ognized as top 100 companies internationally by CIO Magazine for using IT for positive business transformation. Steve was also named the inaugural Global CIO of the Year by the Pittsburgh Technology Council in 2005.
Key Takeaways
[4:41] Background and Career History
MIS Major at IUP
Wanted to know how technology makes a difference
MBA from Duquesne University
[11:09] Biggest Difference in Transition to 1st Law Firm
Increased demand for level of customer service
Difference than traditional corporate environment
Non-stop atmosphere
[13:07] Move to Corporate Mylan Pharmaceutical
Very forward moving organization
Learned about how to transform technology to keep up with business
[15:29] Vision for future of IT at Reed Smith
Law firm industry is changing
Clients putting on more pressure to provide value
[20:11] Learning Experience
Talked behind someone's back and got caught
Stood firm against company's strategic direction
Learn More About Steve Agnoli
The No BS Marketing Show is brought to you by audible.com. Get a FREE audiobook download and 30 day free trial at www.audibletrial.com/NoBS. Try a book like Modern Romance: An Investigation from the hilarious Aziz Ansari. You can download it for free today. Go to Audibletrial.com/NoBS. Again that's audibletrial.com/NoBS for your FREE audiobook.Over 180,000 titles to choose from for your iPhone, Android, Kindle or mp3 player.