Brady, Manning: Super Success On and Off the Field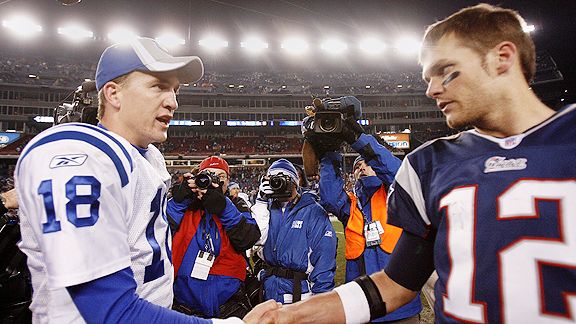 Solutions to help you grow…
It's Super Bowl week and the story lines are plentiful with Ray Lewis retiring and the Harbaugh brothers coaching against each other.
Yet for me, it seems weird without Peyton Manning, Tom Brady or Ben Roethlisberger on the sidelines for only the second time in the past 12 years. Instead, the spotlight will be on quarterbacks Joe Flacco of the Ravens and San Francisco's Colin Kaepernick.
Brady and Manning are hard acts to follow both on and off the field. In addition to winning Super Bowls and building Hall of Fame resumes, they both have built strong personal brands and landed lucrative endorsement deals. As you'd expect, their approach to marketing is as different as their styles of play.
Peyton takes the "every man" approach and pokes fun at himself or his brother. Since beginning his NFL career in 1998, Manning has pitched a whole lot of stuff including DirecTV, Gatorade, MasterCard, Oreos, Reebok, Sony, Wheaties and most recently Papa Johns.
Tom on the other hand sells the cool guy persona as he appears in ads for UnderArmor, Stetson, Dodge Dart, Smart Water and most recently UGGs. Yeah, I know. UGG's. Where'd that come from?
Two great passers and pitchmen. Two major takeaways:
Be Yourself: Tell your story and be comfortable in your own skin. Otherwise, everyone sees through it. Manning's ads might be perceived as a bit salesy but we know that's just Peyton. Tom seems like a hipper, updated version of Joe Montana so we cut him some slack when he is a bit pretentious.
Make It About Them: Their ads focus on us while compelling us to watch them.  Peyton seems like a regular guy who just might give out a zillion Papa John's pizzas. Tom makes it look easy while making you think that cologne might work for you too.
On the field, I hope the Brady/Manning era is over and Big Ben is back next year. Off the field, Tom and Peyton will probably continue to succeed because they tell their stories in a way we can relate to…most of the time.
Send us your rankings to BradyManning@massolutions.biz — here's ours:
5)
4)
3)
http://www.youtube.com/watch?v=k7eGINFXp5s
2)
1)
David M. Mastovich, MBA is President of MASSolutions, an integrated marketing firm focused on improving the bottom line for clients through creative selling, messaging and PR solutions. He's also author of "Get Where You Want To Go: How to Achieve Personal and Professional Growth Through Marketing, Selling and Story Telling." For more information, go to www.massolutions.biz.