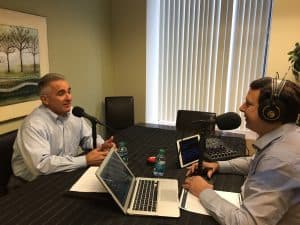 Whether in our professional or personal lives, we all carry phrases and big ideas with us that teach us lessons, make a point, or motivate others. These key moments in our careers are what help us be successful, realize our faults, and stir up emotions. On this episode I sit down with Don Haddad, Senior Vice President of Citizens Bank of PA, to talk about the career path he has taken up until this point, and the big ideas that led him to be a successful banker, businessman, and mentor to others.
Don knew early on that the goal for him in the finance industry was not to climb as fast as he could, but to rather have the right building blocks to set a solid foundation for his career. After graduation, Don continued to accept new opportunities to further his potential. He made great connections along the way, getting his foot into the right doors so that when the time came for them to hire, they looked to Don first.
Many times, the big ideas that elevate our careers do not come from the triumphs, but rather the trying times we've experienced. Such is the example that Don shares with me about starting his time at Melon Banking, where he met the mentor that developed him into who he is today. We also discuss how Don has taken that managing approach and applied it to today's generation of bankers.
About Don Haddad:
Don Haddad is currently Senior Vice President of Citizens Bank of PA. Growing up as 1 of 6 kids, Don knew he needed to build a career starting with a degree he could walk out with and get a job. After graduating IUP with a degree in Finance, Don worked his way up the corporate banking ladder, acquiring a great number of experiences and lessons learned along the way. Today, his current passion is developing the next generation of leaders and bankers in his industry.
Key Takeaways:
[1:50] Common Traits of Lasting Stories
They strip the idea to the core
Explain the idea in human terms
Capture people's attention
Stir up emotion
[4:35] Don Haddad's Educational Background and Career History
More than 25 years of leadership in banking industry
Graduated from IUP Business School with degree in Finance and minors in Accounting and Economics
1st job was with a small bank in Pittsburgh
Continually got pulled into new jobs and opportunities
Been with Citizens Bank since 2001
[11:37]Key Points to Don's Success In College
At a young age, knew the background and direction he wanted
Was mature enough to acknowledge a professor that got under his skin, and continue to enroll in their courses
Adjusted from accounting to finance major
[17:48]Transition to Corporate Banking
Doing less risky situations
Have to deal with more internal politics
Met his mentor Walter Reinhorn
[22:35] How To Apply This Work Mentality Big Idea to Today's Generation
Don's previous experience would not work today
Show by example rather than just tell
It's okay to admit you do not know something, that you will seek out the answer
Get involved in every area you can
Connect With Don Haddad:
The No BS Show is brought to you by audible.com. Get a FREE audiobook download and 30 day free trial at www.audibletrial.com/NoBS. Try a book like The Power of Habit, Why We Do What We Do in Life and Business by Charles Duhig.  You can download it for free today. Go to Audibletrial.com/NoBS. Over 180,000 titles to choose from for your iPhone, Android, Kindle or mp3 player.