Are You Over Communicating to Employees?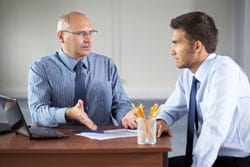 Organizations large and small spend a great deal of time trying to reach and influence potential customers.
In order to meet or exceed their expectations, employees must deliver a quality product or service while living the company's core values.
Yet how much time is spent making sure employees understand what the company is striving to achieve?
I'm not talking about the mission statement posted on a wall, although I'm guessing many employees couldn't recite that either. Does your company clearly communicate core values, strategies and goals throughout the organization? Better still, are you over communicating to your employees? If not, here's how you can do it:
5 Ways to Improve Internal Communication and Increase Productivity 
1. Develop Simple Key Messages–Decide what to communicate on a regular basis. Some messages are constant and based on company values. Others arise during the course of doing business. Both types need to be clear, simple and easy to remember. Clarity and brevity are not mutually exclusive. Tweeting and texting are popular communication vehicles because we can stay updated quickly and easily.
2. Tell Your Story Again and Again–Senior leaders and middle managers often think repeating a message questions the intelligence of their employees and is a waste of time. This couldn't be further from the truth. We all process information differently and are inundated with messages in our personal and professional lives. We need repetition of message. Try asking three different people what they remember from a discussion and you'll see how valuable repetition of message is.
3. Use Multiple Vehicles–Some people read emails, others scan or have a cluttered inbox. Some people take notes at meetings, others don't. Some see those posters on the wall, others ignore them. Just as successful advertising campaigns utilize multiple mediums like TV, billboards, social and direct marketing, internal communication must use multiple vehicles as well.
4. Communicate Up, Down and All Around–Senior leaders hope if middle management hears or reads a message, it will be conveyed to everyone. Don't take that chance. Communicate up, down and around the organization to ensure your key messages reach the entire team.
5. Find Out What They Think the Key Messages Are–Once you've done the first four steps, you need to find out how well it's working. Ask multiple people to tell you what they think the key messages are. Be ready for some surprises. Take what you learn and tweak the process where appropriate.
Improving internal communication will increase productivity, enhance your customer experience and impact the bottom line. Start over communicating today.
David M. Mastovich, MBA, is the president of Massolutions, a Pittsburgh based Integrated Marketing firm that focuses on improving the bottom line for client companies through creative marketing, selling, messaging and customer experience enhancement.