A Marketing Day at the Beach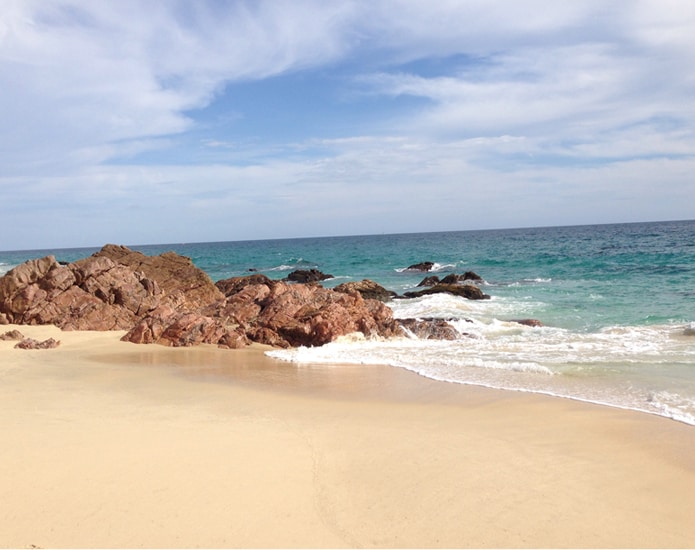 As I sat on the beach during my family's Summer vacation, my daily dose of "people watching" got me thinking…about consumer behavior, marketing, and selling.
If you take the time to think about the traditional activities we immerse ourselves in while at the beach, it's kind of funny.
Typically, members of the male species spend time in the water, jumping into the waves. I've done this many times myself. The waves actually carry you only a short distance. Yet, these boys and men acting like boys find enjoyment from it. Yes, there are some girls and women who jump in. But the majority of the wave people are boys/men wading around…in a caveman like fashion…waiting for the next big one to come in. Then, after a few minutes, walking back to the beach for a refreshing beverage.
On the other hand, as you walk the beach you will find girls and women laying in the sun, working on their tans. Another questionable tradition. Rationally, we would not say to ourselves: "I'm going to lay in the sand with lotion on. It will be hot, sweaty and mostly boring." Yet there they are. Side by side in "their" little section of the beach. Yes, "their" section is apt because they end up at almost the exact same spot all week…as if they have a GPS to help with their OCD.
Of course, there are also people reading under umbrellas, some with books, others with a Kindle or another e-reading device. Kids building sand castles or playing games. Couples walking hand in hand along the beach.
It's market segmentation at its finest. We tend to fall nicely into some sort of consumer group, enabling creative people to drill down and craft targeted marketing messages tailored to reach and influence each group.
The photography guys wandering the beach, making eye contact and trying to talk to the Moms. They already know women make most buying decisions. If they are struggling, the photo sales guys will try to use Dad to get to the boss, Mom. This tactic has modest success but I admire their toolkit of marketing and sales tactics.
The umbrella and chair salespeople take a more laid back sales approach. They know you need them and simply "show" their products. The implication being: "Go ahead. Be uncomfortable. Get burnt. I'll be over here under one of my umbrellas relaxing and waiting for you to buy."
The mass marketers also get into the game. Boats and small planes fly by with banners promoting one big idea, usually a discounted price for a meal or nightclub specials. Talk about appropriate messaging and ad placement.
Boardwalk merchants use BIG/small and contrast in their signage and product displays. Volume discounts and packaging make vacationers rationalize their purchases away. "Hey, for that price to get all that, I can't go wrong."
The sights, the sounds, the sales! A Marketing Guy's Dream! You gotta love it!
And now you know why my family thinks I'm crazy because I never turn it off…even on vacation. Marketing Guys have issues, too.