#500
Podcast
500: 10 Lessons Learned from 500 Podcast Episodes
EPISODE SUMMARY
From formulating the idea of the podcast and getting banned on iTunes for profanity to reaching the show's 500th episode, a lot of lessons have been learned. In episode 500, Dave Mastovich talks about 10 things he has taken away from creating 500 podcast episodes.
EPISODE TRANSCRIPT
For the 500th time, it's the No Bullshit Marketing Show. I'm Dave Mastovich, CEO and founder of MASSolutions, the world's only No Bullshit Marketing consultants.
Yes, you heard it correctly. This is the 500th episode. So I have my notes, the 10 things I learned from doing 500 episodes of the No Bullshit Marketing Show. I can't believe that we're almost up to nine years, and that we have 500 episodes. It's been amazing. It's been challenging. And let's get down to it right now, right off the bat. What are the 10 things I learned from doing 500 episodes? 
Well, first, I probably learned 100 things or more. So I had to narrow this down to 10 things that I learned doing 500 episodes of the No Bullshit Marketing Show. First, something new is energizing. So I went back through my emails, through traditional paper folders that had notes, through files and looked and found all these things from way back when I first decided to do a podcast. And when I first decided to do it, I didn't have the courage to actually do it. And that was probably around 2009. So I was really going to be even more ahead of the curve than I ended up being when I started the No Bullshit Marketing Show about nine years ago, eight and a half years ago. 
But when I looked through, you could just tell by the notes that I took and the people I reached out to, the podcast industry and people that taught about how to build podcasts and grow podcasts, the technical aspect with friends who I knew from my radio days, and it was just energizing. Something new is energizing, it was energizing for me. It was energizing for the team, it was energizing for my family, it was energizing for the entire MASSolutions team, the clients, the people that I interviewed, it was energizing for because when you're doing something new, that's exciting. 
But, number two, things that I learned from doing 500 episodes of the No Bullshit Marketing Show. Number two is building something from scratch is hard, but rewarding. I look back fondly and laugh at the things we did and tried. When we were first starting out, how we bought equipment, where we did the first few shows. We started out doing shows in my actual office. Then we relocated to a place that has a recording studio next to it. So we jumped to that for probably 100 episodes. Then we built our own studio as we gained traction with the whole No Bullshit Marketing platform of the podcast, blog, videos, YouTube videos, keynotes, workshops, etc. So we then have our studio for audio, video and so forth. But building from scratch is hard but rewarding. There were so many things that you would do along the way that again, tied to that being energized. Step number one, learning lesson number one, being energized by something new. And then number two, building from scratch is hard, but it was rewarding. There were times I did the whole thing myself just to learn it, to see how you posted it so it would push out via iTunes and so forth. And I can remember at the beginning we got banned from iTunes, which gave me street cred among my sons and other teenagers that I was coaching at the time or probably even preteens I was coaching at the time. And we were banned because it was in as No Bullshit. And what they said we had to do was reapply and make it No B, and then asterisk, asterisk, asterisk, asterisk, asterisk, marketing. So that's how we ended up being listed because bullshit was apparently too profane. So step one, lesson learned one was something new is energizing. Number two is building from scratch is hard but rewarding.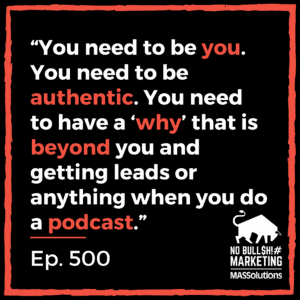 Then number three, being early with a new approach leads to doubts. I want to stress that I wasn't as early as the frontiers, the people on the frontier of podcasting. I'm not implying that. But I was in that early adopter, I wasn't the innovator that had started for 5-10 years prior to that, but I was definitely an early adopter. There weren't a lot of people doing them yet. There weren't as many doing it for business and specifically the niche of marketing. And so when you build early that leads to doubts. 
But number four is maintaining something over the long haul is a grind. There were times in year two, year three that you're doing it and you've hit a wall with how many listeners, you've kind of leveled off how many subscribers. You're still having to do it at a certain time, and you're trying to get into a rhythm of always doing it, and then COVID hits. So during COVID, I had to switch from the guest format, and actually had market research and our subscribers telling us they liked when I would do the rants a lot. So it was kind of a natural segue. We were already starting to do more individual episodes. But then when COVID hit, we went full boar in doing it myself. Well, at that point, I'm doing it myself, there's no one to even brainstorm with. Prior to that, I could at least brainstorm when I was doing a solo episode with my team. And that just made it a grind again and again. 
But what gets you through is number five lesson learned is that making it a habit makes it a habit. When you go back to August 5 of 2015, and you realize that every single week, I forced myself to make it a habit, which made it a habit. I did an episode every single week for that entire length of time. And it just ties back to our habits in life, good and bad. And when you can promote a good habit, doing that again makes that habit go on and become part of your routine. So I became so used to it that there might have been a week where it was really busy, a couple of crises for clients, a couple of emergencies in the family setting, whatever, and I would still find a way to get down there and do the podcast. And after year one and two, when we were well ahead, we're months ahead, we're sometimes six, eight episodes ahead. As COVID hit, it became less of that structure, and I got myself into some bad habits where I was just doing them maybe one week ahead. And you really need to do them more structured 2, 3, 4, 6 weeks ahead, so that you build that whole content calendar, and you're able to be strategic about it. However, I was able to continue that habit, and did it every single week since we began. 
The sixth lesson learned from doing 500 episodes of the No Bullshit Marketing Show podcast is that size doesn't matter as much as it used to. I can remember when I would be writing or speaking or interviewed on television that you'd write for one publication and 50,000 readers. You'd write for another one, 200-250,000 leaders. Be interviewed for something about crisis communications, or branding for ABC News, or Fast Company, or INC, or Entrepreneur, and you're talking potentially, I guess millions of people seeing it. That's not how it is in the podcast game for anyone below those top pop culture ones. The sports ones, Dan Patrick and Dan Le Batard and Colin Cowherd, and then like the pure pop culture interview one of Joe Rogan, and all the other ones that are super big time. And they're less than 1% of the podcasts out there. Those ones have probably millions of downloads and subscribers and listeners. But when you get beyond those, and you're doing a niche podcast, 1000 or thousands or even hundreds can be meaningful because it really is niche programming. So people that are listening again and again want to hear that show. So size doesn't matter as much as it used to when it comes to podcasting. Your success is not – if you have 7000 downloads every week, you're a pretty successful podcast, where now when I still write something that goes to a media outlet, it gets 10 times that, easy. So you have to put that in perspective, because size doesn't matter as much as it does in other mediums, than podcasts. 
And the seventh reason is that I learned that you have to change and then you have to change, then you have to change again, and then you definitely have to remember to change some more. And this is important. So number seven is about change. This podcast has gone through probably five versions since the beginning. You've heard 1.0, 2.0, 3.0, 4.0, 5.0, in that you are having to change and adapt to what your subscribers, what your listeners, what your viewers tell you, and what you're sensing in the market. So we've shifted how the podcast is built to some degree, we shifted when we recorded, how we recorded. We didn't start out with video. There were a couple hundred episodes before we even added video. And now I think, 'Why did we wait so long?' I don't know. But I guess back in '14, '15,' 16, 2017, it was still common to not have video, so you had to do that change. So it was all about changing, then changing again, and being ready to change again, and then remembering to change even more. 
The eighth lesson that I learned from doing 500 episodes of the No Bullshit Marketing Show is to find talent to make you better. And this is true for any leader. You want to surround yourself with talent. A lot of people say you want to surround yourself with everybody around you to be better than you. And that's bullshit, because it's just not going to happen. So when leaders say that, I kind of say, 'Come on, you got 5, 6, 7 direct reports, and then underneath them you got a bunch of directors, are they all really better than you? No. You're kind of BSing when you say that.' But what you want to do is you want to find talent to make you better, and some of them will be smarter than you, some of them will be more talented than you, some will be better than you. But as a whole, they won't be. Or else you probably wouldn't be in a position you're in as the leader. But you still need to find talent to make you better. And that's what we've had to do. The volume of people who've been working in a part of this podcast has been a lot of people, a number, it's probably over a dozen. And most of them are still involved to some degree. But when we're starting out, we're whipping it together. And starting out mainly me and one or two other people doing it as a part-time thing. And then as you grow and do more and more episodes, you say, 'Okay, well maybe dedicate this person to that and dedicate that person to that.' And then we actually started looking outside for experts to tell us what we were missing, what were the gaps in our approach, our view. And that's when you keep finding talent to make you better on how you word things, how you position things, how you build that content calendar, how you record things, how you do the post-production, all of that is the eighth reason, or eighth lesson that I learned from doing 500 episodes of the No Bullshit Marketing Show.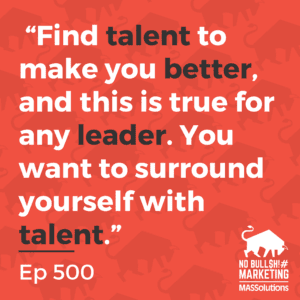 The ninth lesson is remember your why. I often talk about how your why is your reason for being and your customers' why is the reason for buying. And so we had to think about those two why questions again and again, because my why for doing this has consistently been to talk about marketing and to talk about the systematic way that it can be done. And to talk about how people unintentionally are only doing a piece of marketing, because they're doing that tactical element of marketing. They're doing well, but they aren't seeing the whole picture, that that's one part of this system of marketing. So when we have the No Bullshit Marketing mantra, it's about looking at that whole system, and making sure that there is behavioral science driving the creative art, making sure that people are systematically gathering insights, that there's target market segmentation that's drilled down to five or six variables, and they're significant variables, they're variables that meet the demands of being a pure true variable, that there is an approach of getting repetition of message and that you're leveraging the power of story, the science of storytelling. So that was my why. My customers' why, I had hoped, would be people that wanted to learn more about marketing. And over time, we found that that audience was telling us, as I said, things that led us to change, they were telling us what they saw was working and what they thought was needed, where there were more stories to be told, more science to be outlined for them. So I say remember your why with anything you do in your communications, anything you do in your marketing, anything you do in your careers, remember your why and that's a lesson that was reinforced from doing this show for 500 episodes.
And the 10th. The 10th lesson I learned from doing 500 episodes, No Bullshit Marketing Show, is cut the bullshit. You need to be you. You need to be authentic. You need to have a why that is beyond you and getting leads or anything when you do a podcast. You have to make it about them, your audience, and you have to be authentic. Talk like you talk. Break things down like you break things down. Don't be fake. Don't do it just to get a guest on, that you want them to become a client. Be authentic, and be you, and cut the bullshit. Learn and apply what you learn in your career, and in what you do on a daily basis. If that happens to be marketing, learn more about the science and systems and processes of marketing, learn more about the behavioral science driving the creative art, and make it authentic, make it real, and be you. Therefore, you've cut the bullshit. 
That's it. Those are the 10 things I've learned. And I could have done 100, probably, but the 10 main things I've learned from recording, producing and pushing out 500 episodes of the No Bullshit Marketing Show recorded here in MASSolutions studio in bold, beautiful, downtown Pittsburgh, Pennsylvania. Remember, ask yourself, what's the big idea? And build your story around the answer. It's all about bold solutions. No BS.
Important Links 
Listen Here