#489
Podcast
489: Slow Down to Speed Up: How to Cure Hurry Sickness and Improve Your Communication
EPISODE SUMMARY
In the hustle and bustle of today's society, people are rushing around to complete work, make it to meetings, and meet deadlines. Leaders and managers are especially prone to this. But rushing around does not always help, and in fact, often hinders people's ability to achieve their goals while sacrificing their own health. In episode 489, Dave Mastovich talks about the importance of slowing down and how to stop rushing so much.
EPISODE TRANSCRIPT
It's the No Bullshit Marketing Show. I'm Dave Mastovich, CEO and founder of MASSolutions, the world's only No Bullshit Marketing consultants. There's this myth about rushing. I've lived it. The myth about rushing is that if we move faster, and we move and rush, that is going to help us and save us time, when in reality, it doesn't save us much time at all if we step back, and it definitely adds stress and impacts our health. 
But there's another point that's really significant around rushing. Rushing hurts your communication, because others sense you're hurrying, and that you're stressed. And they then respond, either consciously or subconsciously, based on those perceptions. So that changes the impact of your communication. Because when you're rushing at something, to get to the office, and then you start your first meeting, that's still part of you. You're still in that rush mode, even though you're trying to come out of it. And that impacts your leadership, your communication, and your storytelling. Your team could become stressed and they can end up not bringing up potential roadblocks or creative solutions because they're worried about adding stress or worrying that your fuse is getting close to blowing. Believe me, I know I've caused this throughout my life. And so you have to fight back against this myth about rushing. Let's take a step back and dig into it. 
First, hurry sickness is a thing. Hurry sickness is a behavior pattern defined by a continuous struggle and unrelenting attempt to achieve more or participate in more all in less time. It's to achieve more, do more, participate, don't miss out on anything, be a part of more, all in less time. That's hurry sickness. Sounds like something you've maybe had before? Or maybe you have now? Of course it does. Because we pretty much all have done this rushing thing. And it's a matter of how often does it happen whether we've fallen prey to what they call hurry sickness. So when we do fall prey to that hurry sickness, we rush against the clock, we talk faster, we move faster, and we're having an impact on those around us. And that impact is not positive. For leaders and managers, the impact on your teams, and on your communication is most certainly negative and probably more significant than we all think, as leaders and managers. Now the survey and study tied back to this hurry sickness says that 95% of managers suffer from hurry sickness. And I'm guessing the other 5% have suffered but at the time the study maybe said they weren't. But forget about the study, forget about the survey. It's just logical that we tend to rush, managers and leaders tend to probably rush more. So we probably are having some hurry sickness.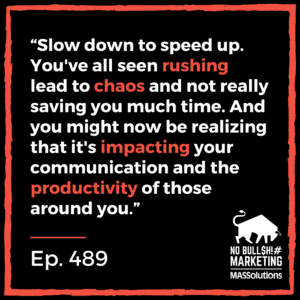 I heard a story when I was in the Flow Research Collective's Zero To Dangerous program. The Flow Research Collective is a peak performance research and training organization that studies the neuroscience of peak human performance focused on the state of flow, the state of flow, which back in the day was what we called getting into the zone. Flow Research Collective studies the state of flow getting into the zone, and they had a program called Zero To Dangerous to help people get into the flow state more quickly and to stay in it longer. And I was part of that program, and I loved it. I think they do great work. But during that program, they wanted to talk about rushing. And they said we're going to give you an example. They told this story about this research person, a member of their team of how he loved bike riding. And when he would do this one bike ride, he would ride it hard and had a ton of energy and push, push, push to see how fast he could go. So he worked super hard, tried to go as fast as he could. And he timed it day after day after day and he found that it was 43 minutes. 43 minutes, Monday, Tuesday, whatever day. 43 minutes. Quick sidebar. Most people that know me know that I do stuff like that. I'm an efficiency guy or perceive myself as one so I tend to time things. I time how long it takes me to get from here to there, time how long it took me to do x and y. That can be great because my team has to track my time for our company, because our intellectual property and our time is our product, our service. But it also has led people to scratch their heads about me and I get it. But back to the anecdote. He gets frustrated riding day after day after day and pushing the limits and timing out at roughly 43 minutes every day. He decides that one day I'm just going to drive this ride on my bike, and I'm going to enjoy it. He's relaxed, smiling, taking in the scenery, really getting into the bike ride. When he finishes and gets to the destination, he looks at his stopwatch. 45 minutes. He couldn't believe it. He was flabbergasted. 43 minutes day after day after day. And now it's 45 minutes when I just chilled and thought it was fantastic. Relaxing only took a mere two more minutes. Now that anecdote is only one piece of it. There's tons of actual studies about rushing when driving, rushing when talking to others, rushing when in a meeting. The statistic is that rushing tends to save, at best, 4% of your time. 4% of your time can be saved when rushing. And guess what 4% of 45 minutes is? Two minutes. So the bike ride really did live up to – the anecdote really did live up to what the study showed, that roughly 4% is what is saved when we rush. 
And here's the thing, we tend to overestimate the value of rushing. We don't think it's only going to save us 4% right? When we're flying around trying to get home, when we're on a trip somewhere, we don't think that rushing and driving much more dangerously and stressing everybody else out in the car is going to save us 3 to 4% of the time. But that's pretty much what it amounts to. We also tend to underestimate the negative impact that rushing is having on those around us. I think we can all agree that rushing has an impact on us. I think we can all agree that we know that that's not the greatest thing for our health. But we underestimate how others are perceiving us and then responding, either consciously or subconsciously, to what they perceive. And that's when rushing is impacting your leadership, your communication, and your storytelling. And we all know that leaders grow and succeed because of their communication. Their communication is more powerful when it leverages the power of story. So if rushing hurts our leadership, our communication, our storytelling because of how others consciously or subconsciously perceive us when we're rushing, we are hurting the productivity of our organizations, of our teams, of ourselves. 
So how can we avoid hurry sickness, hurry sickness and the negative impact it has on our leadership, our communication, our storytelling? Slow down to speed up. 'Huh?' Slow down to speed up. You all related to the bike story. You've all seen rushing lead to chaos and not really saving you much time. And you might now be realizing that it's impacting your communication and the productivity of those around you. That phrase slow down to speed up isn't something just made up. It's a clever play on words and gets our attention but it's true. Slow down to speed up is what will make it happen. Now when I was part of the Flow Research Collective's Zero To Dangerous program, they gave us a top 10 list of ways to slow down and speed up. Now, I'm not going to go through that many, but I'm going to focus on a couple that I thought were odd when I first heard them, but then they worked when I tried them. 
The first one is something I use in other parts of my life, and you've heard me reference this a lot. And it helps you to stop from rushing. And man, did this one help me. Ask why you are rushing in each situation that you're rushing. Ask why. 'Why am I rushing to get to the office and getting nervous about all this traffic? Oh, I'm doing that because I have a 10 o'clock and it looks like I'm going to arrive there at 9:54, and I'd like to have time to get my coffee and get to my desk and that might mean I get to my desk at 9:59, and then I have to turn on Zoom and it might be 10:01.' Once we ask why we say, 'Oh, that's stupid. That's stupid. My worst case scenario if I don't rush is that I turn Zoom on at 10:01 for a 10 o'clock.' So the first one is to ask why for each time you're about to rush. But also ask why for each request you receive. Why ask why? When people are asking you to do things, ask why, to yourself, why would I take this on? And that's going to help you to say no more. So asking why helps you in the moment of rushing, but it also helps you in saying no. The first one, ask why.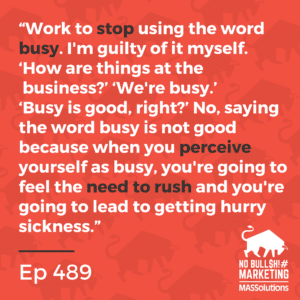 The second one is tied to wall staring. Yes, they start trying to train us to wall stare. And you know what I was doing, you know me. 'That's bullshit.' That was my initial response to when I'm on a mastermind group and they're telling me to learn how to wall stare. But then I thought about some of my tendencies. One of the things I do when I'm thinking is I tend to be just staring and looking down at my desk or something and I have this strange tendency to click my teeth weird. Yes, I know. Or I might bite a pen, who knows what, but I begin to stare. And I stare off for 10 seconds, 30 seconds, and all of a sudden I would respond or have an idea. And so when they're telling me about wall staring – and you know what my initial response was, hit the bullshit button. But I think I probably do some of this already, let me try it, let's give it a chance. And it's not the easiest thing when you're consciously thinking about it. But they give you a couple of steps. But the point I'm making to you is to slow down to speed up, staring off into the wilderness or staring off at a wall and just letting your mind relax does work, and it's worked for you too. It has. You might think it's bullshit and everything, might not want to agree with this. But if you sit back and think, you do this. You do this in meetings, you do this when you're pondering what to do next, you do this when you're writing, you do this when you're planning for a meeting, you do this when you're finishing the key part of your job. It's helping you to get into the flow state. So practice staring off. Look up wall staring if you want to go through what I went through. 
The next one is something I've written and spoke about quite a bit, and it's tied to multitasking. Multitasking is a misperceived thing in our society. Multitasking could mean that you're good at multiple things. That's a good definition of multitasking that can serve you well. Multitasking in the way that it's misperceived is, 'Well, while I'm on this podcast recording, I can check my email and see that oh, wait, let me see, Brett sent me an email. Oh, so did my Mike Caddy. Okay, well, let me get back to the podcast.' That's a poor definition of multitasking. So multitasking as being able to do multiple tasks and being skilled at them is a good thing. Trying to do them at the same time to any degree is not a good thing. So focus on single tasking rather than multitasking. 
And the last one from that list that Zero To Dangerous gave us is my favorite because of what we do here at MASSolutions and it's tied to the phrase I say that words matter. Work to stop using the word busy. I'm guilty of it myself. So I'm saying work to stop using the word busy or to lessen your usage of the word busy. 'How are you?' 'Oh, I'm busy.' 'How are things with the company?' 'We're busy.' 'Busy is good, right?' That's the response people will give you. 'How are things at the business?' 'We're busy.' 'Busy is good, right?' No, saying the word busy is not good because when you perceive yourself as busy, you're going to feel the need to rush and you're going to lead to getting hurry sickness. So reduce the usage of the word busy because busy is not good. And when you think in terms of being busy, you tend to rush. When you rush, you tend to get hurry sickness. When you rush, you might save 3 to 4% of your time on that task, but you've hurt yourself and your health, but also everybody around you perceived you differently, so that led to stress for them, led to them avoiding ideas, avoiding pointing out potential weaknesses, all kinds of bad things are happening. 
So we want you to stop rushing. I shouldn't say stop. We want you to reduce how often you're rushing so you avoid hurry sickness. We want you to take those ideas that I gave you and apply them as much as you can so you can slow down to speed up. 
Thanks for listening to another episode of the No Bullshit Marketing Show, recorded here in MASSolutions studio in bold, beautiful, downtown Pittsburgh, Pennsylvania. Remember, ask yourself, what's the big idea? And build your story around the answer. It's all about bold solutions. No BS.
Important Links 
Flow Research Collective's Zero To Dangerous Program
Listen Here