#332
Podcast
Marketing Podcast 332: Kerrygold Grass-Fed Butter & the 4 P's of Marketing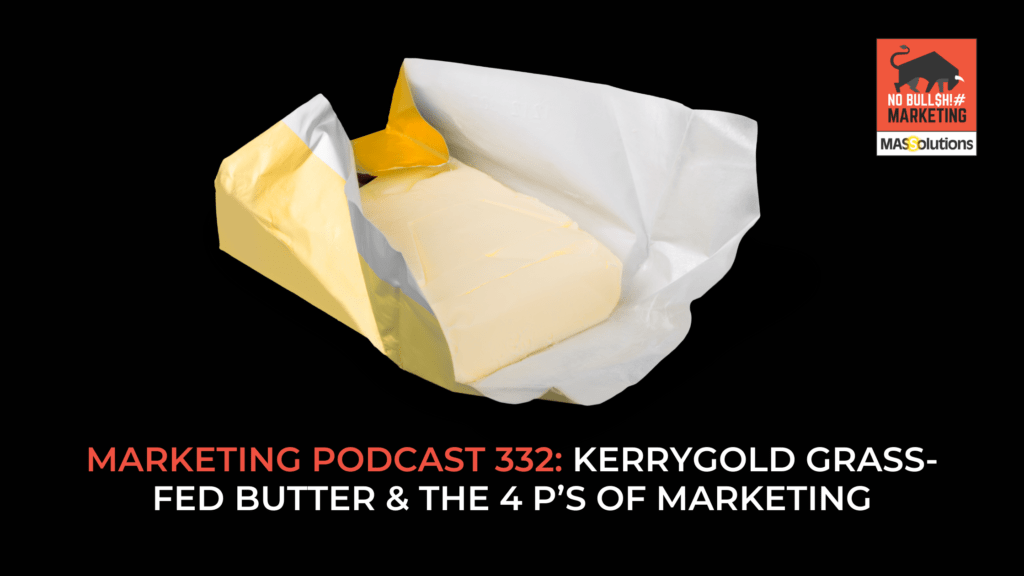 What do Kerrygold Grass-Fed Butter and branding have in common?
In this episode of the No BS Marketing Show, Dave talks about Bulletproof Coffee and how the grass-fed butter he used (Kerrygold Grass-Fed Butter) introduced him to a living, breathing case study of the power of the Four P's of Marketing to build a brand and grow sales.
Here's a quick refresher of the 4 P's of Marketing:
Product – The development of your product can be defined as either a physical or intangible service that's unique and fulfills a need of the consumer. That's why product development is a piece of marketing.
Price – Once the product is established, pricing must be decided upon. The price will play a factor in demand, supply, profit margins, and marketing strategies.
Promotion – This can be anything from advertising, content marketing, email marketing, social media marketing, etc. All touchpoints must work together to support the overall Big Idea messaging.
Place – Placement is all about presenting your product to the right people at the right place and at the right time. It's imperative that you meet your target audience where they are and don't make your target audience come to you.
Kerrygold Grass-Fed Butter is a No BS marketing white paper to pay attention to and Dave explains in detail in this episode.
Give it a listen and be sure to subscribe to the marketing podcast on iTunes.
For more insight on the 4 P's of marketing, dive into these articles:
With Digital and Physical Product Releases, Make it About Them
$3,500 Chair, $1,149 Phone: Understanding the Consumer or Overpriced?
MASSolutions | Marketing Agencies in Pittsburgh
Looking for more No Bull$H!# advice and marketing insight that doesn't waste valuable time and money? Our Pittsburgh marketing agency is the one-stop solution for everything from public relations to branding and healthcare marketing.
Contact us here.
Listen to our Podcast here.
Learn more about CEO Dave Mastovich here.
Follow us on LinkedIn here.