#233
Podcast
233: IUP Biz Honors Cohort Visits MASSolutions P1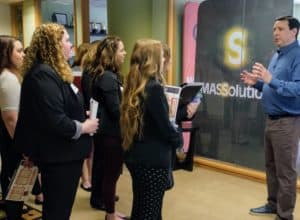 We had a great time hosting students from IUP's Eberly College of Business and Information Technology Honors Program. Our day was filled with No BS Marketing sessions on Content and PR, Marketing Intel, and Podcasting! This week's episode is Part One of the student podcast with Dave. Listen to learn about how these students consume content and what types of companies they're hoping to intern for.
If your business is looking to reach and engage a younger target audience, you won't want to miss this!
Key Takeaways
[00:23] Meet the Guests!
[03:31] How Can We Best Reach You?
Social media, social media, social media
6-second videos (okay, some longer ones, too!)
Visuals
Bright colors
[04:35] What types of companies are you hoping to intern with?
Welcoming culture
Interacting with people
Small companies
Good causes, having a meaning
Are you signed up for the No BS Marketing weekly update? You'll receive timely, valuable ideas to improve your marketing and transform your message. It's light, intended to be read in 2 minutes or less and it just might trigger bright ideas for you. To sign up, visit: massolutions.biz.
Remember, ask yourself: What's The Big Idea and build your story around the answer. It's all about Bold Solutions, no BS.