#229
Podcast
229: Athletes in the Workplace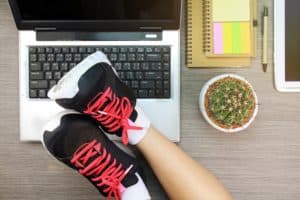 March Madness is about buzzer beaters and bracket busters.
However, the triumph and heartbreak of the March Madness tournament aren't just limited to college basketball players. Ask any current or former college athlete. They can tell you about the moments they were the team celebrating a big upset or the time where they were the star player. On the flip side, they can tell you about the times they were humbled.
Listen to this week's March Madness-inspired episode to learn about the seven common traits many former competitive athletes might bring to your workplace.
Key Takeaways
[00:38 ] Trait 1: Unspoken Bonds
Immediately connect with other former college athletes
Mutual understanding of each other's dedication, what they went through, focus, humbling moments
Inclusion
Win with class, lose with class
[03:26:11 ] Trait 2: Deliberate Practice
Work harder
Deliberate practice is having a how and why for everything you do
Do everything with purpose
[05:07 ] Trait 3: Understand Deadlines
Athletes understand all things come to an end
Meet deadlines
Never know when it'll end
[08:45 ] Trait 4: Handling of Pressure
Confident and prepared
Handle pressure well
Rise to the occasion
Prepared
[09:45 ] Trait 5: Take Feedback
Generally good at taking feedback
Can take bad tones, remarks, non-verbal expressions
Take feedback, work hard and get better at it
[11:39 ] Trait 6: Teamwork
Humbling experiences help teamwork
Work together
Band together
Not always stars, but always team players
[12:57 ] Trait 7: Accountability
Hold themselves accountable
They do things while no one is looking
Do things from passion, discipline, and accountability
Are you signed up for the No BS Marketing weekly update? You'll receive timely, valuable ideas to improve your marketing and transform your message. To sign up, visit: massolutions.biz.