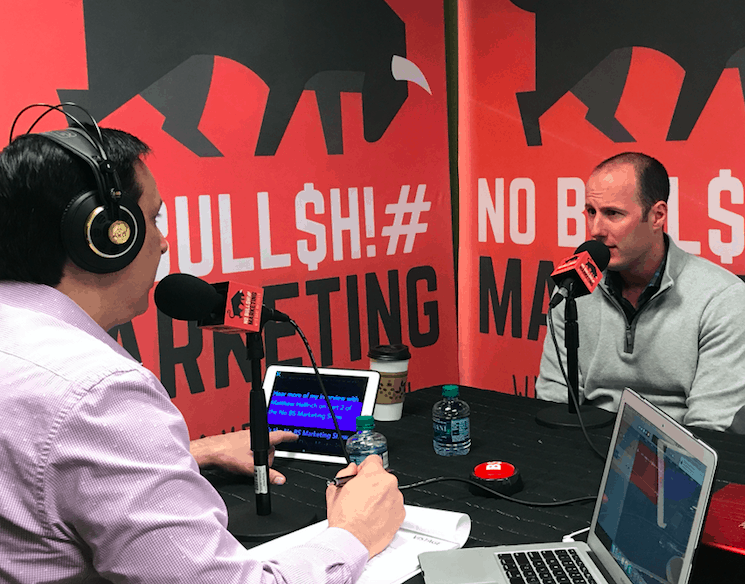 You can have data without information, but you can't have information without data. Despite having infinite data at our fingertips, we as marketers rarely use it to our advantage. Our target audiences don't want statistics, they want stories. Real stories.
Matt Helfrich is Partner and President at Waldron Private Wealth. Over his 16 years at Waldron Private Wealth, Matt has worn many hats including Chief Investment Strategist and Chief Investment Officer. Matt found his home at Waldron Private Wealth after bumping into his mentor, family friend, and former boss John Irvin. At the time, Matt worked at Prudential Insurance and felt the misalignment between himself and the white shirt, blue coat culture.
Per Irvin's suggestion, Matt called Waldron Private Wealth CEO and Founder John Waldron. After a few follow-up calls with Waldron, Matt landed at Walrdon Private Wealth, and the rest is history.
In part one, Matt breaks down the importance of storytelling and relating to your clients and employees through narratives. Listen to follow along with Matt's journey, peaks and valleys of his career, and the lessons he learned along the way. If you're a young professional or a few years into your career, you will certainly want to take some notes.
Key Takeaways
[05:38] Leveraging relationships to find the right place
Finding the right company culture
Using relationships to get to Waldron Wealth
Building strong relationships
Persistence
[11:02] Simple, but hard advice
Following up, staying persistent
Doing what you said you were going to do
[12:17 ] Peaks and valleys of Matt's career
Gain experience by trying everything
Do more, do anything
[13:11 ] The lessons the 2008-2009 economy brought
Speak in plain English. Cut the jargon out
Be empathetic with your clients and your employees
Understand what your client is going through
Stories matter!
Listen and understand
[16:13] Building self esteem and company culture
Drop jargon and statistics
Clients want stories
Teach employees through stories
Utilizing lunches, town halls and small group meetings to build culture
Collaboration and team-oriented culture
Humbling yourself as a leader
Advance yourself by learning from and understanding your mistakes
[18:47] The art of listening
You have two ears and one mouth
Listen twice as much as you speak
Fully listen before crafting your response
Listen, pause, respond
[21:07] Matt's mentors
John Waldron
John Irvin
Andy Putterman
Connect with Matt Helfrich
Waldron Private Wealth on Facebook
Waldron Private Wealth on LinkedIn
Waldron Private Wealth on Twitter
Resources Mentioned
The No BS Marketing Show is brought to you by Larrimors Men's and Women's Designer Clothing. Free shipping. Free returns. Shop men's and women's designer clothing, shoes, accessories, jewelry and more online at larrimors.com or in-store, downtown Pittsburgh.
Are you signed up for the No BS Marketing weekly update? You'll receive timely, valuable ideas to improve your marketing and transform your message. It's light, intended to be read in 2 minutes or less and it just might trigger bright ideas for you. To sign up, visit: massolutions.biz.
Remember, ask yourself: What's The Big Idea and build your story around the answer. It's all about Bold Solutions, no BS.