#226
Podcast
226: John Chamberlin and Rachael Rennebeck P2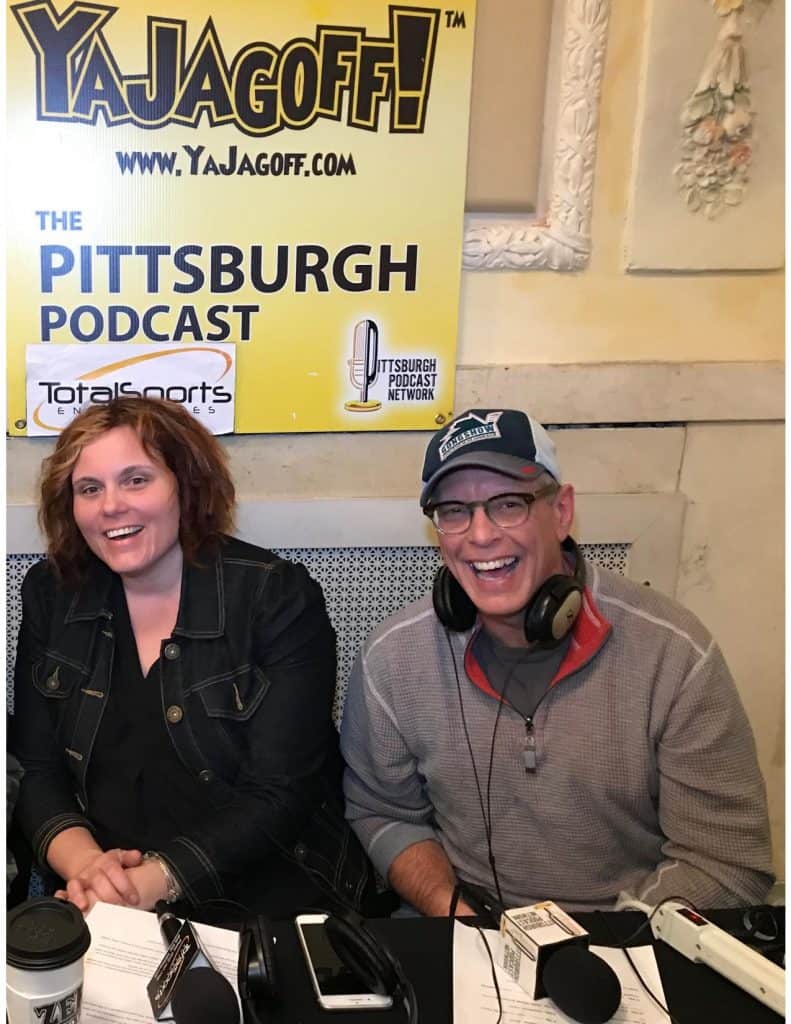 How do you learn and grow? By getting your hands dirty and making mistakes.
That's how John Chamberlin established the persona for the YaJagoff brand. When he teased a blog post on Sandusky, a number of readers reacted with frustration. They let him know that they followed YaJagoff to get away from the heavy news and laugh at bad parking and funny headlines. John was smart enough to listen to his audience and shift gears. He wrote a new blog post and reached out personally to each follower who had expressed concern.
John sites this incident as a milestone in the persona of the brand, and since Rachael Rennebeck joined YaJagoff Media last year, the pair has continued to leverage levity and avoid the obvious questions. They have created unforgettable marketing campaigns for nonprofits, including a Willy Wonka parody starring Tyler Kennedy for Junior Achievement and JuJu Smith-Schuster's JuJu Claus for the Homeless Children's Education Fund. They also co-host the YaJagoff podcast to promote the cool things going on in Pittsburgh. Above all, Rachael and John know how to have fun—and not be Jagoffs!
In part two, John and Rachael talk monetization, explaining how long it took the brand to start earning money through sponsorships. They each share their take on the 'big idea' of YaJagoff, discussing how the platform is setting traditional media on its side. Listen in for insight on improving communication with tools like OneDrive and learn how John and Rachael 'launch and learn' as they go.
Key Takeaways
[05:08] How John developed the YaJagoff persona
Teaser for Sandusky blog received backlash
Listened to audience re: what they wanted
'Launch and learn'
Don't insert your opinion
Don't ask the obvious question
[13:34] The YaJagoff timeline to monetization
Five years as a side project while John worked as a consultant
Port Authority sponsored first Porch Tour
Rachael better at asking for money, plan for monetization
[19:01] The 'big idea' of the YaJagoff platform
Niche media company
Storytelling through video, podcast, social media
Set traditional media on its side
Lower cost to client, more dedicated consumers
How YaJagoff leverages video for clients
Introduce client to gain attention on social media (i.e.: EMS)
Spots featuring John and Rachael to raise awareness for nonprofits
[26:04] John's advice around improving productivity and communication
Share documents via Microsoft OneDrive
Recruit help with audio recording, website
Connect with John Chamberlin & Rachael Rennebeck
Resources Mentioned
The No BS Marketing Show is brought to you by Larrimors Men's and Women's Designer Clothing. Free shipping. Free returns. Shop men's and women's designer clothing, shoes, accessories, jewelry and more online at larrimors.com or in-store, downtown Pittsburgh.
Are you signed up for the No BS Marketing weekly update? You'll receive timely, valuable ideas to improve your marketing and transform your message. It's light, intended to be read in 2 minutes or less and it just might trigger bright ideas for you. To sign up, visit: massolutions.biz.
Remember, ask yourself: What's The Big Idea and build your story around the answer. It's all about Bold Solutions, no BS.