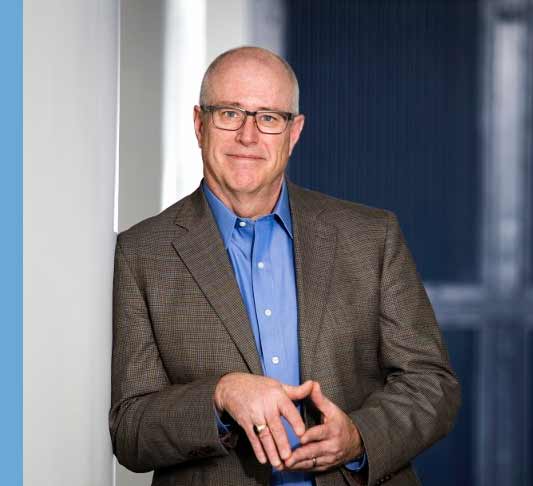 Business isn't just about making a buck. It's about making a difference.
Previous leadership models were about command and control, using rewards and consequences to push employees into getting the job done. But that style doesn't work anymore. To attract and retain talent, companies are learning that they must bring a sense of purpose and meaning to the work they do and create an ecosystem where people feel connected and valued.
John Dame leveraged his 32-year career in radio broadcasting to become an executive coach and business strategist. He has spent the last 15 years training CEOs and their executive teams in the strategic planning and leadership development space, and his current areas of focus include the role of purpose in the business environment and the transition to a millennial workforce. To address these issues, John created the Evolution Leadership Conference Series to help leaders move away from the rudimentary model of telling people what to do to Leadership 3.0—influencing people to achieve.
In part two of my interview, John discusses the BS parts of his own early leadership style and how he continues to overcome 'Bad John' through self-awareness. He gets into the details of the Evolution Conference Series, offering his take on the characteristics of a next-generation leader and his insight around working with millennials. Listen in for John's suggestions around the best available leadership resources, and learn how to get involved with Vistage International, the world's largest CEO membership organization, so that you too can show up as a purposeful leader.
Key Takeaways
[05:31] The qualities of 'Bad John'
Highly dominant, influencer personality
Arrogance, aggressiveness
'I'm the boss and you're not'
[08:56] How John has learned to recognize and remedy 'Bad John'
Recognize when about to lose patience
Pause and gain control of emotions
[10:53] John's Evolution Conference
Focus on making difference, purposeful leadership
Developing ecosystem to nurture and develop team
[14:46] John's take on Leadership 3.0
Make team feel connected and valued
Provide clarity, safety
Offer regular feedback
Bring purpose, meaning to work
[17:23] John's insight around working with millennials
Majority of workforce by 2025
May challenge your thinking
Not attracted by wages alone
[20:28] The big idea that drives John
Better leaders needed to change world
People leave jobs because of bad managers
Train leaders to influence people (vs. tell them what to do)
[23:25] Resources around leading with purpose
Connect with John Dame
Fast Track Strategic Planning: How to Build a Corporate Strategic Plan in Just 48 Hours by John Dame
Resources Mentioned
Spark: How to Lead Yourself and Others to Greater Success by Angie Morgan, Courtney Lynch and Sean Lynch
The No BS Marketing Show is brought to you by Larrimors Men's and Women's Designer Clothing. Free shipping. Free returns. Shop men's and women's designer clothing, shoes, accessories, jewelry and more online at larrimors.com or in-store, downtown Pittsburgh.
Are you signed up for the No BS Marketing weekly update? You'll receive timely, valuable ideas to improve your marketing and transform your message. It's light, intended to be read in 2 minutes or less and it just might trigger bright ideas for you. To sign up, visit: massolutions.biz.
Remember, ask yourself: What's The Big Idea and build your story around the answer. It's all about Bold Solutions, no BS.