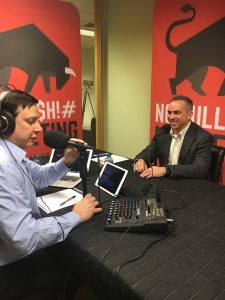 Cut the BS – Social Selling: Buzzwords drive me crazy for a number of reasons. It seems like some people love to throw out phrases and acronyms instead of speaking with clarity. Plus the phrase of the day, month or year often means something different to each person or market segment because since it's a new phrase, the definition hasn't been clearly conveyed to the masses.
One such phrase that became more and more prevalent in 2016 is Social Selling. I've read and heard phrases like "all selling is social"and how important it is to have a social selling mindset. But like the name Podcast, social selling is a bit of a misnomer. Social Selling actually isn't really social or selling. It's not about closing the deal or about doing more online than offline.
Social selling is about providing your prospects and customers value through online social media communication AND then taking the conversation offline to create real connections.
LinkedIn offers what they call the 4 Pillars of Social Selling:
Create a strong professional brand to increase your visibility to your desired contacts and build trust in your industry.
Don't just blanket the world with your pitch. Instead, focus on the best prospects for your industry, and your goals.
Establish yourself as a subject matter expert / thought leader to show that you're an informer, not a me-former. Regularly share interesting industry content, engage with stories shared in your field, and limit how much you promote yourself over others.
Start with genuine conversation. If your prospects feel like they're immediately being sold to, they'll be less likely to want to build a relationship with you. Remember: the sell-ing comes after the social in social selling.
Social Selling is all about connections and content…or you could say it's all about No Bullshit Marketing.
Interview with Bob Haddad
Today I sat down with Bob Haddad, Senior Strategic Account Manager at Salesforce.com. Bob has spent his career bringing strategic technology solutions to sales teams and organizations throughout the world. Bob previously spent 16 years at Oracle in various roles, and, prior to that, six years at Legent/CA as an account manager. Bob also was part owner of Preferred Business Systems and Imagine Interactive Marketing.
After graduating college Bob was faced with a dilemma of being offered two jobs at the same time. Turning down a 30K base pay job (in 1983!) he took a position with Radioshack to sell computers. This was the start of a series of sales successes for Bob, claiming he sent out 200 resumes to get his first job and hasn't had to put together once since!
Bob shares anecdotes with me on why he always agrees that preparation + opportunity = success. He also speaks on having key mentors in business and how his own helped shape his achievements. Mentors have taught him how to focus on the customer, how to ask the hard questions, and how to put the bad news on the table. Bob has taken key values from mentors in each job in his sales career helping him grow quickly and strategically.
About Bob Haddad
Bob is a graduate of Indiana University of Pennsylvania with a BS in Marketing. Bob joined Salesforce in June 2015 as an account executive, where he focuses on creating a positive customer experience. Bob currently serves as a member of the IUP Eberly Business Advisory Council and served previously on the IUP Foundation Board and IUP Alumni Board. He is a proud member of Phi Sigma Kappa National Fraternity.
In addition to his IUP-related activities, Bob has served on numerous councils and boards at St. Sebastian Parish and School in the North Hills of Pittsburgh, and currently participates in Pittsburgh Communities in School by mentoring middle school students at Martin Luther King School. Bob is a member of the St. Sebastian Knights of Honor and recipient of the Todd Beamer Memorial Award.
Bob and his wife, Nancy, reside in Ross Township, Pa. where they raised their five children.
Connect with Bob Haddad
---
The No BS Show is brought to you by audible.com. Get a FREE audiobook download and 30 day free trial at www.audibletrial.com/NoBS. Try a book like Modern Romance: An Investigation by Aziz Ansari. You can download it for free today. Go to Audibletrial.com/NoBS. Again that's audibletrial.com/NoBS for your FREE audiobook.
Over 180,000 titles to choose from for your iPhone, Android, Kindle or mp3 player.